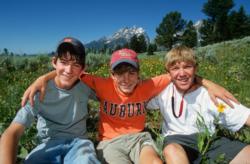 Because Wilderness Ventures still holds operating licenses in these protected area, teens have an unparalleled opportunity to explore remote wilderness areas.
Jackson, WY (PRWEB) June 27, 2013
Jackson Hole-based Wilderness Ventures, the longest running and most experienced adventure travel program offering teen summer camps offers students a chance to connect with Wyoming's wild and beautiful places on their premier teen adventures. For more than 40 years, this family owned and operated Wyoming teen outdoor adventure program has led thousands of youths on adventures throughout Wyoming and around the world.
When Wilderness Ventures was established in 1973, they secured exclusive operating licenses in America's most spectacular national parks and national forest areas. Because Wilderness Ventures still holds operating licenses in these places today, teens that travel with Wilderness Ventures have an unparalleled opportunity to explore remote wilderness areas that they would not have access to in other teen travel programs. Because holding these operating licenses is also a privilege, Wilderness Ventures teaches teens to respect, preserve, and protect these wilderness areas of Wyoming and beyond for future generations.
Through their innovative leadership, service and adventure programs, Wilderness Ventures' students have a hands-on opportunity to learn about the history and inner-workings of the park service and in some cases volunteer in these federally-protected areas. In Wyoming, Wilderness Ventures offers teen adventure trips in places like Grand Teton National Park, Yellowstone National Park, Teton Wilderness, Bridger Wilderness, Fitzpatrick Wilderness, and more. Beyond Wyoming, Wilderness Ventures operates in national parks and protected areas across the US and throughout the world.
With origins in the Jackson Hole area, Wilderness Ventures shares expertise, knowledge, and a passion for the wildlife, landscapes, and wild spaces in Wyoming with young adults who have an interest in the great outdoors. As the oldest and most experienced adventure travel company for young people, Wilderness Ventures life-altering experiences are crafted for young adults who are just beginning their outdoor experiences or teenagers who are experienced outdoor adventurers. For teens that are looking for excitement and adventure in a team atmosphere, Wilderness Ventures' expeditions are an ideal option and offer life-changing experiences. For more information about Wilderness Ventures, visit http://www.wildernessventures.com.
About Wilderness Ventures:
With more than 21,500 alumni, Wilderness Ventures is a veteran in adventure trips for teens and has paved the way for young adult travel around the world. Their more than 40 years of experience and unwavering core values of community, personal growth, wholesome environments, safety, wilderness education, exploration, conservation, and discovery have led to their trusted and unmatched reputation. Wilderness Ventures currently holds special permits to operate their teen adventure trips in 20 National Parks and 17 designated wilderness areas.