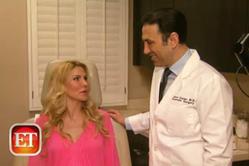 Los Angeles, CA (PRWEB) June 27, 2013
According to a June 21, 2013 Glamour Magazine report entitled "3 New Sunscreen Tips to Keep Your Skin Healthy (and Pretty!)," the way you apply and use sunscreen is as important as choosing the right sunscreen. This is true all year round, but even more so in the summertime. (Go to goo.gl/oMekt)
"This article does a good job of providing simple steps for people to follow so that the sunscreen they apply is as effective as possible," says Dr. Simon Ourian, Medical Director of Epione Beverly Hills.
According to the Glamour report there are three main rules to follow. First, apply an antioxidant serum prior to putting on sunscreen. The point is that many sunscreens contain zinc oxide which is thought to produce free radicals. Second, the article suggests that one double the amount of sunscreen experts recommend from one ounce to two ounces. The idea behind this suggestion is that doubling the amount of sunscreen used lessens the likelihood one will leave any skin uncovered and exposed. Finally, the article notes that though some sunscreens may be water-resistant for 40-80 minutes, none of them are waterproof. In fact, the FDA has banned the use of the term waterproof as it applies to sunscreen. The third suggestion is that one not towel off upon leaving the water as this may physically remove the sunscreen from one's body.
"I recommend daily sunscreen use to all my patients," says Dr. Ourian. "But even a well-chosen sunscreen, one with an SPF of 30 or more, is of little use if not applied correctly."
Dr. Ourian has been a pioneer in laser technology and non-invasive aesthetic procedures including Restylane, Juvéderm, Radiesse and Sculptra. These treatments are used for the correction or reversal of a variety of conditions such as acne, acne scars, skin discoloration, wrinkles, stretch marks, varicose veins, cellulite, and others. More information about the getting your body beach ready can be found on Epione's website.