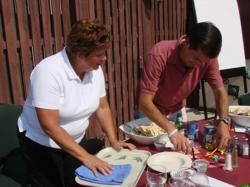 (PRWEB) June 29, 2013
The programs designed by Recipe For Success (RFS) enable interested groups to schedule culinary team building events for breakfast, lunch, dinner, snacks, and everything in between. In addition to meal variations, Recipe For Success is also equipped to accommodate events in either an indoor or outdoor location.
The Chili Cook Off team building event is a stellar example of a flexible, client-favorite program designed by RFS. With its most recent outing in Virginia, the Chili Cook Off was a success, bringing many laughs and a pinch of salt to a group down South. During this event, groups are broken into small teams where they work together to concoct the perfect chili recipe in a given time period. Throughout the course of the Cook Off, teams are challenged by rounds of trivia and other small games. At the end of the Cook Off, teams are able to enjoy each other's chili samples and each other's company.
One of Recipe For Success' clients expressed their enthusiasm for the event by stating:
"...I received so many positive comments about our Chili Cook-off and everyone had a great time. The facilitator got everyone involved and it was truly amazing how this team builder got the creativity of all of our teams flowing. I can't count how many people told me it was our best team builder ever!" —Shea H.
Recipe For Success believes that "the team that eats together, stays together." To back their ideology, RFS provides an opportunity for teams come together for a team building culinary event, like The Chili Cook Off.
About Recipe For Success
Recipe for Success is a unique team building company that uses culinary challenges to build better teams. Founded by Chef Richard Cooper, a business executive and owner of My Mother's Kitchen Cooking School and David Goldstein, Founder of TeamBonding, Recipe for Success continues to lead the way in food-based team building events. For the last 10 years, Recipe for Success has been developing, refining, and delivering fun, affordable, high-quality culinary team building programs to an impressive list of clients throughout the United States and beyond. For more information on the company, please visit: http://www.recipeforsuccess.com.