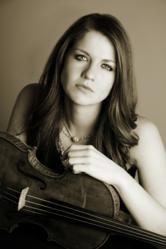 Not only are these musicians exceptionally skilled, but they also demonstrate that exciting and charismatic panache that moves, excites and inspires.
(PRWEB) June 29, 2013
Following national auditions, the Baltimore Symphony Orchestra is pleased to announce the new appointments of Principal Timpanist James Wyman, Fourth Chair Viola Rebekah Newman, Second Trumpet Nathaniel Hepler and Second Horn Lisa Bergman; additionally, BSO Violist Karin Brown won an internal audition for the 3rd chair Assistant Principal Viola position. The appointees will begin in the upcoming 2013-2014 season.
"Building a great orchestra requires so much more than just assembling musicians with excellent technical ability," says Maestra Alsop. "Not only are these musicians exceptionally skilled, but they also demonstrate that exciting and charismatic panache that moves, excites and inspires. Their spirit is in keeping with the BSO's goal to not only perform great concerts, but to accomplish the far greater mission of using music to change lives."
"I am thrilled to see these talented musicians add to our ranks," said BSO President and CEO Paul Meecham. "They join the BSO at an exciting time in its history: The Orchestra under Marin Alsop boasts artistic quality of the highest caliber, in addition to the heightened focus on expanding our education and community outreach. The BSO approaches its centennial celebration in 2016 looking to further strengthen its artistic mission through its increased relevance and spirit of inclusion."
James Wyman succeeds Principal Timpanist Dennis Kain, who died last year after serving in that position for 46 years. Mr. Wyman's previous positions include Acting Principal Timpanist with Reading Symphony, Principal Timpanist with Fort Wayne Philharmonic and Acting Principal Timpanist with the Erie Philharmonic. He holds a master's degree from Carnegie Mellon and his teachers include Paul Yancich, Jeremy Branson, Timothy K. Adams and Josh Ryan.
The BSO appoints Rebekah Newman Fourth Chair Viola. Ms. Newman's most recent post was as Principal Violist with the Charlotte Symphony. She has also served as principal violist with Akron Symphony and the Erie Philharmonic, and was a member of the Minnesota Orchestra. She holds a bachelor's degree in music from the Cleveland Institute of Music and her teachers include Mark Jackobs, Robert Vernon, Linda Cerone, David Russell and Hilel Kagen.
Nathaniel Hepler will assume the role of Second Trumpet. Mr. Hepler earned his Bachelor of Music in Trumpet Performance from Philadelphia's prestigious Curtis Institute of Music. There he studied with Frank Kaderabek and David Bilger, former and current Principal Trumpets of The Philadelphia Orchestra. He holds a Master's of Music in Orchestral Performance degree from the Manhattan School of Music, where he studied with Mark Gould. He has served as Second Trumpet with Symphony in C and Principal Trumpet with the Sarasota Opera.
Lisa Bergman, appointed Second Horn, has performed with orchestras throughout the United States and Europe. She has been a member of the San Antonio Symphony, the Knoxville Symphony, and the New World Symphony and has performed regularly with the Kansas City Symphony, the Indianapolis Symphony, the Indianapolis Chamber Orchestra and the Colorado Symphony Orchestra. She is currently on the faculty of the Eastern Music Festival. Ms. Bergman holds a Master's of Music in Performance Degree from Indiana University and a Bachelor's of Music in Performance degree from Michigan State University. Her mentors have included Randy Gardner, Michael Hatfield and Julie Landsman.
The BSO's Assistant Principal Viola Karin Brown won an internal audition for her new role. Ms. Brown joined the BSO viola section in September 2001 and has performed critically acclaimed solos with the Orchestra and throughout the region during the past 12 years. Prior to joining the BSO, she was a prizewinner in numerous competitions, including the William Primrose International Viola Competition and the National Federation of Music Clubs Competition. She received her bachelor's degree from the Oberlin Conservatory of Music and her Master's degree from the Juilliard School, where she was a recipient of the Nathan Gordon Memorial Viola Award. While still a student at Juilliard, Ms. Brown was a frequent substitute with the New York Philharmonic and Metropolitan Opera, joining each for several international tours. A dedicated teacher, she is on the faculty of the Baltimore School for the Arts and the Catholic University of America. Ms. Brown has studied with Cynthia Phelps, Roland and Almita Vamos, Samuel Rhodes, and Zoya Leybin.