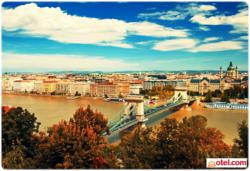 (PRWEB) June 28, 2013
The colorful capital city of Hungary is divided into two by the famous Danube River. Because of the prosperous weather, it attracts thousands of tourists during almost all seasons of the year. There are also many events and attractions in which the tourists would be interested. The annual Sziget Festival is very popular. It is called local Woodstock for young people. There are many things to do and to see all around the city. On the Castle Hill, you can visit the Royal Palace, Matthias Church, National Gallery, Fisherman's Bastion, the Historical Museum of Budapest and Music Museum. People may find very cheap hotels in Budapest, however when the spring comes, it is nearly impossible to find a right place for accommodation. That is why Otel.com prepared a deal for Budapest hotels.
Metin Altun, the CEO of Otel.com says, "Booking in advance is very useful for paying really low prices. For example, if people book their hotel in Budapest for summer during the winter, it may be the half of the price people would pay for the same room at spring time. Now we are like in the middle of the summer and it is nearly impossible to find good prices. Therefore, we prepared our monthly deal for this colorful city's hotels. People can visit our website and find our special offers there for hotels in Budapest."
Metin Altun continues his speech, mentioning the two hotels they picked for a better deal. "The first of them is Best Western Premier Parlament Hotel. This is a boutique hotel in the very center of the city. The rooms and the interior of the whole hotel is designed modernly, the hotel has an elegant atmosphere. The other hotel we chose is Fortuna Boat Hotel which is on the Pest-side of the city, next to the Margaret Bridge. People staying here would be very close to many attractions."
About Otel.com
Otel.com is a branch of Met Global, the international travel company, providing over 250,000 hotels all over the world with its B2B and B2C system. The website offers over 20 languages and currencies for its visitors. Monthly and weekly deals can be found on Otel.com the website of the company.