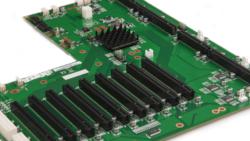 We are pleased to introduce these very high performance PCIe connectivity products in support of our ever expanding range of products. -- Bjorn Krylander, CEO of Datapath Ltd
Derby, Derbyshire (PRWEB UK) 29 June 2013
Express9-G3 Description and Features:
The Datapath Express9 backplanes provides nine PCI Express slots implemented as x16 physical connectors, they can be used with a standard PICMG 1.3 SBC as a stand-alone system or with Datapath SLink and HLink cards to provide a PCI Express expansion system for a standard PC. The new Datapath Express9-G3 offers:
Nine slot PCI Express backplane
Eight x 4 lane slot supporting data rates up to 4 GB/s
One x 8 lane slot supporting data rates up to 8 GB/s
48 lane PCIe Gen. 3 switch
1 x PICMG 1.3 SBC slot
Supports interconnection of multiple backplanes
PCI Express Expansion Link: HLink-G3 & SLink-G3 Description and Features:
The HLink-G3 (Host Link) card is used to provide a high bandwidth PCI Express link from an upstream host to a downstream expansion unit. Used with the complementary SLink-G3 (Slave Link) and Datapath backplanes, these cards allows the construction of larger systems comprising many more PCI Express card slots than can be accommodated in a single chassis. Key features of the HLink-G3/SLink-G3 are:
PCI Express 3.0 Bus extension across 8 lanes (SLink-G3 has to be used in conjunction with HLink-G3)
Peak bandwidth of 8GB/s both upstream and downstream simultaneously
Transparent to PCIe fabric (no additional bus hierarchy introduced)
Automatically adjusts between PCIe Gen. 1, Gen. 2 and Gen. 3 operation depending on endpoint capabilities
Optimizes bandwidth and PCIe lane utilization in conjunction with Datapath backplanes
"We are pleased to introduce these very high performance PCIe connectivity products in support of our ever expanding range of products for wall controller systems," said Bjorn Krylander, CEO at Datapath and continued, "the market is asking for higher resolutions, faster video frame rates, and generally more and more data and we are happy to oblige."
About Datapath Limited
Datapath Limited is a world leading innovator in computer graphics, video capture and digital display technology.
Founded in 1982 and now distributing across five continents, Datapath has end customers in more than 100 countries Worldwide; covering multiple industries such as visual media, military, education, security and health care.
Consistently meeting standards of excellence with the delivery of quick and effective support, and providing unbeatable customer service for any specialised requirement
With Datapath's expertise, quality focus and dedicated customer support make the products the first choice for customers requiring solid, high-reliability solutions.
Media Contact: Charlotte Moore
Media Contact Details:
T: (01332) 294 441
M: (07738) 257 821
E: charlotte(at)datapath(dot)co(dot)uk
A: Datapath Ltd, Bemrose House, Bemrose Park, Wayzgoose Drive, Derby DE21 6QX