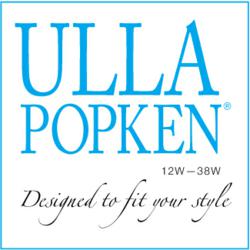 "I'm thankful for the recognition and the opportunity to share with the Ulla Popken Community the role we can all have in inspiring girls to achieve in technology, or whatever field they wish to explore," said Ruthe Farmer.
Baltimore, Maryland (PRWEB) June 30, 2013
Ulla Popken, a leader in plus size fashion apparel, is pleased to introduce Ruthe Farmer as its latest Phenomenal Woman. Ms. Farmer is Chair of Computer Science Education Week and the Strategic Director of the non-profit organization National Center for Women & Information Technology, at the University of Colorado. Ms. Farmer has long been an advocate of encouragement for girls and young women, and focuses on helping them to reach for success in the STEM (science, technology, engineering and math) fields.
Ulla Popken's Phenomenal Women program was established to recognize plus size women who embody the ideal of becoming and living as their best selves, despite life's obstacles, and who make it their personal mission to improve the lot of others in their communities and professions. Through her work, Ms. Farmer has been able to touch the lives of many girls and women through their educational years, K-12 and onward to institutions of higher learning, and as they move on to career paths in academia, corporate settings, and as entrepreneurs.
Clearly, she has made a difference for many. One of her supporters said, "Ruthe's contribution will have more lasting effects for all women, into the next several generations. Women who become empowered via education will always empower other women to pursue their dreams. Ruthe's efforts will empower women in areas where they are traditionally undereducated and underpaid: Science and Engineering!" and another, "She has been a mentor and world changer for many years. Her energy and love seem unbounded. May she continue to bless the world for many years to come."
There are many ways to become empowered, and at Ulla Popken, as a fashion retailer, the belief and guiding principle is that "Feeling Beautiful Is Empowering™." The company makes beautiful, unique clothing for plus size women, always with the approach that the feelings of the woman on the inside are as important as what she wears on the outside. Upon hearing that she had won the Phenomenal Woman contest, Ms. Farmer commented, "To me fashion and feeling beautiful is one of the many tools in my arsenal that allow me to go about my work with the confidence and poise I need to win over my audience - whether it is a potential corporate partner, a group of legislators or a room full of middle school girls."
Phenomenal Woman Ruthe Farmer will receive a $500 wardrobe from Ulla Popken, and will be the subject of a soon-to-be filmed video which will be featured on the Ulla Popken website. Ms. Farmer is looking forward for this chance to further her cause, and said, "I'm so honored to receive this award. I'm thankful for the recognition and the opportunity to share with the Ulla Popken Community the role we can all have in inspiring girls to achieve in technology, or whatever field they wish to explore."
Previous winning phenomenal women video interviews can be found on the Ulla Popken YouTube Channel: http://www.youtube.com/user/ullausa.
Runners-up in the contest voting were Mary Martha Arana, Pati Frew-Waters, and Jenyce Gush. Ulla Popken considers them all to be Phenomenal Women in their own right, and will award each a $100 gift certificate.
Ulla Popken is proud to support and acknowledge the efforts and accomplishments of all the nominees, and appreciates the interest of the greater plus size women's community in coming forward to cast their votes for the Phenomenal Women contest finalists. The inspiring stories of Ulla Popken's past Phenomenal Women are all posted on the Ulla Popken Community page and can be viewed there.
About Ulla Popken:
Ulla Popken is a plus size women's clothing retailer selling sizes 12W-38W. Initially a German retailer with more than 320 stores in Europe, Ulla Popken founded its US headquarters in Glen Arm, Maryland in 1993 and serves customers through its catalog and eCommerce.