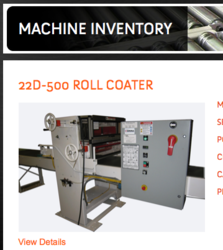 It's very beneficial to our customers to be able to find great savings... that come directly from the original manufacturer
MENDOTA, IL (PRWEB) June 28, 2013
Black Bros. Co., a premier roll coating and laminating machine manufacturer, announced the launch of their new online Machine Inventory hub. This inventory includes New In-Stock, Demo, and Rebuilt machines built by Black Bros. Co.
The page is constantly being updated and new machines are being added on a weekly basis. The new hub includes many of Black Bros. Co.'s roll coater machines and 3D laminating machines. On the left sidebar, the user is able to sort through the different types of product categories and machine conditions.
"We feel that it's very beneficial to our customers to be able to find great savings on rebuilt, demo and new in-stock machines that come directly from the original manufacturer" says Ed Strahota, Black Bros. Co. Director of Marketing.
The machines in the Machine Inventory come with a limited warranty directly from Black Bros. Co. Contact Ed Strahota at estrahota@blackbros.com for more information.
Black Bros. Co. was founded in 1882 in Lanark, Scotland, and is now in its fifth generation of family ownership. Black Bros. Co. has evolved into a world-class designer and manufacturer of coating and laminating machinery. In the U.S. today, Black Bros. Co. is the largest single manufacturer of laminating, gluing, roll coating and finishing machines.
To visit the Black Bros. Co. new Machine Inventory page, go to http://www.blackbros.com/machine-inventory/