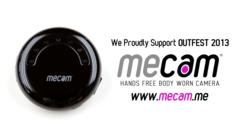 MeCam...is donating its proprietary cameras to staff participating in Outfest 2013.
Miami, FL (PRWEB) June 27, 2013
MeCam, a firm specializing in advanced Wearable Cameras, is donating its proprietary cameras to staff and celebrities participating in Outfest 2013. The cameras will be used by the event runners to record the festivities.
MeCam is a hands-free wearable video camera that is designed to optimize versatility and ease of use. It can be pinned on a shirt, worn as a necklace, or pinned on to other objects in order capture video from that point of view. Among its unique features are its small size, light weight, and the ability to shoot in low-light or dark conditions through Infrared (IR) LED lights built into the device. It records high quality video and can also shoot photos, at 720P HD and 5 megapixels, respectively. The MeCam can also be plugged into one's computer via USB to allow its images to be easily transferred or streamed.
MeCams were developed to allow users to record their lives or activities in a manner that was more natural and unique. The product, which can be ordered in bulk or customized, has become popular among a wide range of consumers.
Outfest 2013 is an annual event that showcases thousands of films from around the world that centered on LGBT narratives and themes. It has been a prominent festival for over three decades.