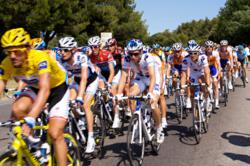 We have the absolute best online price for the Polar RC3 Tour de France 100th anniversary commemorative edition watches
Bozeman, MT (PRWEB) June 28, 2013
The Polar RC3 Tour de France 100th anniversary edition integrated GPS watches are on sale at the very lowest online price to celebrate the Tour de France start this weekend but only at the Heart Rate Watch Company.
OVER $100 OFF
"We have the absolute best online price for the Polar RC3 Tour de France 100th anniversary commemorative edition watches," says Rusty Squire, President of the Heart Rate Watch Company. He adds, "We will not be undersold."
LIMITED TIME
"This sale is only good while supplies last so prospective buyers will have to hurry because once they are gone, that's it, because Polar is not making any more of them," says Squire.
CYCLING, RUNNING and OTHER OUTDOOR SPORTS
The Polar RC3 is the first ever integrated GPS watch produced by Polar, the oldest manufacturer of heart rate monitors. "This watch provides speed, distance, heart rate and many other features ideally designed to meet the needs of those competing in any outdoor sport or endurance activity," says Squire.
GPS BASED ALTIMETER
The Polar RC3 also features a GPS based altimeter to determine altitude along with total ascent and descent for outdoor activities like cycling, running or hiking according to Squire.
"The Polar RC3 Tour de France version also comes in a model for cycling that includes a Polar CS WIND Cadence sensor so you get all the data you require in real-time," says Squire.
"The Tour de France kicks off this Saturday, June 29th on the Mediterranean island of Corsica with a 213 kilometer stage that could put Omega-Pharma's Mark Cavendish in the yellow jersey as it is a sprinter's stage," says Squire.
"Enjoy the Tour and enjoy an incredible deal on the 100th anniversary official training computer for the greatest bicycle race on earth," says Squire.