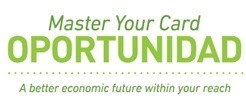 (PRWEB) June 27, 2013
Master Your Card: Oportunidad, a national coalition that works to educate Latino communities on the benefits of electronic payment technologies, participated in a panel discussion today at the 30th Annual Conference of the National Association of Latino Elected Officials (NALEO) in Chicago.
Panelists discussed the benefits of using credit, debit and prepaid cards for Latino consumers and business owners alike. They also explained the impact bad credit or no credit has historically had on Latinos and the implications the community often faces as one of the highest underbanked and unbanked populations in the United States.
"Latino households are among the highest of underbanked and unbanked in the United States, and often have little to no access to the mainstream financial system," said Melissa Aguillon, panelist; founder, president and CEO of Aguillon & Associates; and Master Your Card: Oportunidad Texas outreach director. "Access to credit was integral to my ability to open a business, and it can be just as important in other aspects of life, such as financing a car or getting a student loan. Learning how to make smart use of credit, debit and prepaid cards can launch Latinos out of financial exclusion and provide much needed access to the benefits of electronic payments."
According to the Federal Deposit Insurance Corporation's (FDIC) National Survey of Unbanked and Underbanked Households, which was released in 2012, 28.6 percent of Latino households are underbanked and 20.1 percent are unbanked. In contrast, 8.2 percent of all U.S. households are unbanked, while 20.1 percent are underbanked.
Nearly 52 percent of Latinos use alternative financial services, such as check-cashing services and payday lenders, in any given 30-day period. According to the survey, these rates are higher for Latino households than any other ethnic group.
"Electronic payments enable consumers to receive and use funds instantly and without having to pay exorbitant fees to check–cashing centers and payday lenders," said Aguillon.
Electronic payment cards also provide greater security related to fraud and theft. Unlike cash and checks, lost or stolen payment cards can be replaced easily and the funds restored.
During the session, Aguillon also provided insight into ways electronic payments can help Latino small businesses grow. In addition to added customer convenience, industry research shows that consumers spend more when using payment cards than they do when using cash or a personal check, which means a bigger bottom line. Accepting electronic payments also helps small businesses compete with larger merchants and even potentially expand their markets online and through mobile platforms.
In addition to Aguillon, other session panelists included Ross Romero, former Utah state senator and NALEO board member; Marisa Calderon, chief of staff and deputy executive director of the National Association of Hispanic Real Estate Professionals; Attorney Eric Kamerath of Lexington Law; and Brenda Muñiz, senior advisor of community affairs at the Consumer Financial Protection Bureau.
Launched in May, Master Your Card: Oportunidad is working to engage Latino citizens and small business owners across the United States, as well as policymakers, on issues of achieving more financial inclusion for the Latino community and the importance of increased access to and confidence in electronic payment technologies.
For more information about Master Your Card: Oportunidad, visit http://masteryourcardusa.org/oportunidad.
About Master Your Card: Oportunidad
Master Your Card: Oportunidad is a coalition that aims to help the Latino community understand the full value of electronic payment technology to promote upward mobility and further financial inclusion for families and small businesses in the United States.
About Master Your Card
Master Your Card is a public education campaign created by MasterCard® in 2011 that helps consumers, small businesses and governments get more from their money by using electronic payments systems, such as prepaid, debit and credit cards to their advantage.