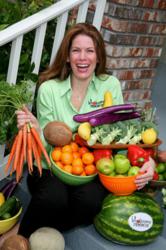 As a busy mom, I was tired of preparing three fresh meals a day from scratch and was frustrated that easy yet healthy options didn't exist.
Orlando, FL (PRWEB) June 27, 2013
Wholesome Tummies is expanding its mission to bring healthy lunches to schools across the country. New franchise locations in Austin, Texas, Houston, Minneapolis and Denver will bring the company's nutritious and tasty menu to children in local schools, promoting good eating habits. The growing kids' food franchise – the first of its kind in the U.S. – gives parents the option to order school lunches that kids love, made fresh every morning with all-natural ingredients that are suitable for many dietary needs.
Franchise owners debuting in the new markets are looking forward to sharing their passion about living a healthy lifestyle and eating well-balanced, nutritious meals. For the 60 million school-age children in the U.S., half of their daily food intake occurs at school. But kids often find limited and nutrient-deficient options available to them, which is contributing to the growing childhood obesity epidemic in this country.
Mother-daughter team Inna Benyukhis and Michelle Renteria are targeting the south side of Austin, Texas to open their Wholesome Tummies franchise while Michael Alba and his family will bring nutritious options to Houston.
In Minneapolis, Bill Stelle, inspired by his daughter's numerous food allergies, will reach out to the region with lunches that are chemical-free, and have gluten-free and vegetarian choices. Jack Paul, who used to be overweight as a child, is looking to Denver schools to offer healthy lunches. Paul hopes he can have an impact to offer more than just fast food to today's kids, including his own children.
"We are excited to welcome our new franchisees to Wholesome Tummies," said founder and CEO Debbie Blacher. "Our new locations will allow more families to have healthy options for their children, and kids in even more communities across America will have access to delicious school meals that are made with fresh and nourishing ingredients."
Each month, Wholesome Tummies' nutritionists and chefs develop unique (and kid-tested!) menus. Recipes are designed with the ideal portions and nutritional content for growing children, and include crowd pleasers like pizza, macaroni and cheese, orange chicken and baked French toast. The team creates two new items each month to keep things interesting.
The process is simple: Wholesome Tummies contracts with schools to deliver meals each day. Parents can choose to opt in to the service and place orders for their kids through the Wholesome Tummies website. There are no long-term contracts and parents can order as many meals each month as they wish, whether it's one meal or an entire month's worth. Meals are prepared fresh each morning in a commercial kitchen, then delivered to schools in time for lunch. Meals can also be prepared on-site if a school has its own kitchen. Plus, unlike many other lunch programs, Wholesome Tummies allows parents to order just 36 hours in advance for added flexibility, and meals can be cancelled, if needed, as late as 8 a.m. the morning of pickup.
Founded in 2007 in Orlando, Fla., Wholesome Tummies began franchising in 2010. Since then, Wholesome Tummies has expanded to 16 locations throughout the country, with plans to double that number in 2013. Long-term goals call for 250 locations within the next five years.