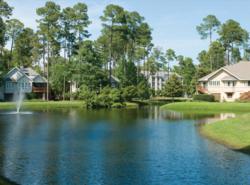 To have TidePointe featured as the Readers' Choice Award means a lot to our community both in awareness and overall reputation
(PRWEB) June 29, 2013
TidePointe, a Vi community, recently received the 2013 Island Packet Readers' Choice Award for "Best Retirement Community." The award was presented by The Island Packet, the Island's major news source for more than 40 years.
On average each year more than 60,000 votes are cast in a variety of categories making the award a prestigious one for any organization on the Island. According to TidePointe Sales Director Dene Wilmot, the award means a great deal to both staff and members.
"To have TidePointe featured as the Readers' Choice Award means a lot to our community both in awareness and overall reputation," Wilmot said. "Our staff and members certainly recognize what a great community we have, and now we know the rest of the Island agrees!"
Wilmot has lived on Hilton Head Island for 26 years, and has worked at Vi for 17 of those years. She attributes many factors to TidePointe receiving the award including the community's top of the line culinary program, charitable fundraisers, lifestyle programming and, of course, great location.
"Our commitment to lifestyle is apparent in the well-rounded options we offer our members each day," she said, "but the minute you drive through the gate you get it - it's clearly a beautiful community."
TidePointe has previously won the Readers' Choice Award in 2012, 2010 and 2008.
Learn more about the services and amenities offered to members at TidePointe.
About Vi
For more than 25 years, Vi has blurred the line between retirement and resort. Our continuing care retirement communities (CCRCs) provide refined environments, upscale living, service and amenities and the option for care should you need it. Founded in 1987, Vi currently operates 10 CCRCs nationwide. Find out more about Vi today.