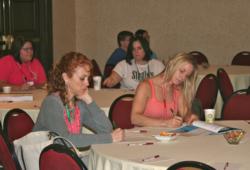 "SCAV's Southeast Veterinary Conference provided veterinarians and veterinary technicians with timely information in a beautiful venue. The SEVC looks forward to returning to the Myrtle Beach Marriott June 22-25, 2014."
Columbia, SC (PRWEB) June 29, 2013
The Southeast Veterinary Conference (SEVC), presented by the South Carolina Association of Veterinarians (SCAV), celebrated its 20th anniversary June 16-19 at the Myrtle Beach Marriott Resort & Spa at Grande Dunes with almost 500 attendees.
The Southeastern Veterinary Conference provided more than 170 hours of continuing education for veterinarians, veterinary technicians, veterinary practice managers and support staff. The sessions held were very diverse and featured a wide range of topics including companion animal behavior, canine and feline ophthalmology, emergency care, bovine medicine, ruminant medicine, disaster preparedness, exotics, feline and canine diabetes, and equine topics. In addition, there was a laser lab, sponsored by Aesculite-LuxaCare; a dental lab, sponsored by Patterson Veterinary and OraStrip; and cruciate and patella repair, sponsored by Securos.
The exhibit hall was lively throughout the week as 63 exhibiting companies came to display their latest technologies. The University of Georgia College of Veterinary Medicine and the SCAV sponsored a reception in the exhibit hall on the opening day.
According to SEVC Conference Chair, Mary Keisler, DVM, "SCAV's Southeast Veterinary Conference provided veterinarians and veterinary technicians with timely information in a beautiful venue. The SEVC looks forward to returning to the Myrtle Beach Marriott June 22-25, 2014."
Established in 1911, SCAV is a not-for-profit association representing veterinarians. The Association strives to advance the science and art of veterinary medicine by providing opportunities for professional education and development and by enhancing the relationships between veterinarians, agriculture, pet owners, government and the public at large; and to protect the public health by promoting proper involvement in human and animal health care by the veterinary profession.