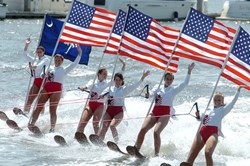 America's Happiest Seaside Town
Beaufort, South Carolina (PRWEB) June 27, 2013
After the last spark of the Fourth of July has dwindled, the town of Beaufort South Carolina is preparing for an even bigger event. Beginning July 19, 2013, the residents of America's Happiest Seaside Town will be attending the 58th Annual Beaufort Water Festival. For seven days each year, residents of award winning Beaufort SC neighborhoods like Coosaw Point, celebrate Southern traditions at the Henry C. Chambers Waterfront Park along the scenic Beaufort River. The Beaufort SC festival has become such brand in the community that out-of-towners who discover Coosaw Point and surrounding Low Country real estate developments during their visit often end up moving here permanently.
Located just eight minutes from the center of the Beaufort Water Festival is Coosaw Point, voted Happiest Community of the Year by property owners. Residents of this Low Country real estate development have the best of both worlds; the serenity of a low-key neighborhood and the joy of the Happiest Seaside Town in America. The perfect balance attracts families and retirees to find bliss. Amenities include a stunning River Club, community boat docks, tennis courts, and dog park. Coosaw Point and other surrounding South Carolina coastal communities are known as prime real estate areas for retirement because of the great weather, low cost of living and cultural activities.
The attractions of the 58th Annual Beaufort Water Festival draws thousands of people inside and outside the town to enjoy what Beaufort has to offer. On the first evening of the 58th Annual Beaufort Water Festival, residents of the Beaufort SC neighborhoods and tourists can view the performances of the Parris Island Marine Band accompanied by a supreme fireworks display at dusk at the Henry C. Chambers Waterfront Park. Teens can dance to the tunes of their favorite local bands and families can stroll through the The Festival Arts and Crafts Market. The fun continues throughout the week with exciting Shrimp Boat Tours, Air Shows, Croquet Tournaments, Children's Day events and much more.
The festival ends on Sunday July 28, 2013 at 3:00 p.m. After seven full days of parades and parties in the water, happy residents relish in how lucky they are to call the Low Country home. Searching for the right seaside village to retire? The friendly community of Coosaw Point is happy to welcome new residents to America's Happiest Seaside Town and neighborhood.
About Real Estate Scorecard
Real Estate Scorecard writes unbiased real estate reviews providing in-depth information about popular gated communities in Florida, Georgia, North Carolina, South Carolina and Tennessee, all in an effort to help people discover where to retire in the Southeast.
Website: http://realestatescorecard.com