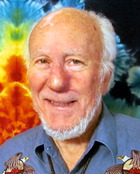 Dr. Robert Van de Castle's contributions have shaped our understanding of dreams
Herndon, VA (PRWEB) June 28, 2013
Dreams Cloud, the most comprehensive resource on dreams and dreaming on the web, mobile and social media, presented Dr. Robert Van de Castle, PhD with the Onward and Upward award at the 30th annual conference of the International Association for the Study of Dreams (IASD). The conference took place in Virginia Beach, VA from June 21st to 25th this year.
Dr. Van de Castle is a Professor Emeritus at the University of Virginia Health Sciences Center. He was Director of the Sleep and Dream Laboratory at the University of Virginia Medical Center from 1967-85, and was President of the Association for the Study of Dreams from 1985 to 1986. He authored Our Dreaming Mind, and co-authored The Content Analysis of Dreams with Calvin Hall. The Hall-Van de Castle system of dream content analysis is the pre-eminent method for analyzing and understanding dreams today. Dr. Van de Castle was honored as the first recipient of the IASD Award for Lifetime Achievement in Dreamwork.
"Bob's contributions, both as a researcher and as an evangelist for the importance of dreams, have had a tremendous impact on the field and helped to shape our thinking in critical ways," said Jean-Marc Emden, Chairman and Co-Founder of Dreams Cloud. "The phrase "Onward and Upward" epitomizes his commitment, drive and spirit, which have been an inspiration to Dreams Cloud. We are delighted to be able to recognize and honor him with this award," Mr. Emden added.
About Dreams Cloud
Dreams Cloud, a subsidiary of Dreams Book Inc. (DBI), is a global resource which specializes in gathering, saving, and tabulating a statistical compilation of dreams. The website provides its members with tools to log their dreams, create dream journals, save them privately or share them publicly or anonymously, and receive personalized reflections on their dreams. The goal of Dreams Cloud is to better its members' lives and those of the public through its efforts. To learn more about Dreams Cloud, please visit http://www.dreamscloud.com.
About Dreams Book Inc.
Dreams Book Inc. (DBI), a Herndon, VA, based company, is the creator and manager of various internet-based projects. DBI employs fractional management and in-house expertise and development as well as a multi-national outsourced team to create value for its stakeholders through synergetic and strategic project management. DBI specializes in projects that provide social benefits and have mass appeal.