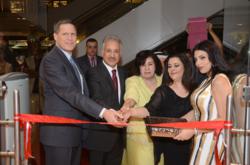 New York, New York (PRWEB) June 28, 2013
Jovani Fashions Ltd. is taking their internationally recognized brand to the next level with the opening of their first ever franchise in the Arabian Gulf—an area that has become a hot spot for all things luxury. As the "Heart of the Middle East and North African region," it is no wonder that big names within the fashion industry are flocking to tap into this flourishing area, which continues to grow in economic significance within the luxury sector.
Appropriately named Jovani Gulf, the franchise opened its doors last weekend in Kuwait, signaling the start of a new path for the prom and evening wear company. Jovani, founded in 1980, is distributed worldwide in over 3,000 specialty boutiques and department stores to include Harrods, as well as Neiman Marcus and Nordstrom's locations all across the United States. With their newest franchise endeavor, Jovani will bring their brand that much closer to consumers.
Jovani has chosen to partner with its long-time customer Noura Meddeb, the successful owner of several high end boutiques in the region. Meddeb has had a great business relationship with Jovani for over 20 years and was a clear choice for the evening wear brand to establish its franchise system with. The grand opening of Jovani Gulf at Fanar Mall in Salmiya, Kuwait brought officials, dignitaries and fans from across the region. Guests included Matthew Tueller, the U.S. Ambassador to Kuwait and Yousef Al Qabandi, Kuwaiti ambassador to the Ukraine who also presided over the grand opening.
"The gulf region is very important to our business and is one of our biggest international markets," said Vice President and Jovani co-owner Abraham Maslavi about choosing the Gulf for their first international franchise. Kuwait serves as a central location for the Jovani Gulf franchise, acting as a hub for the region. "Not only is it easily accessible to the rest of the region, they have excellent transportation and is a great place for commerce," said Maslavi. While Jovani Gulf will provide the fashion house's growing customer base a more direct shopping opportunity with the iconic brand, potential retailers throughout Bahrain, Egypt, Kuwait, Oman, Qatar, Saudi Arabia, and the United Arab Emirates will have the option to order directly from the Jovani Gulf franchise. This combination of retail and wholesale in the Gulf, through its franchise, will give co-owners and brothers Saul and Abraham Maslavi a bigger opportunity to firmly establish the brand in the region. The Maslavi's are looking to expand internationally and the Gulf region was a natural starting point.
Company
Jovani Fashions is a New York-based fashion house that designs and manufactures luxury designer dresses, prom dresses, cocktail styles and couture gowns. The world-renowned brand sells to over 3,000 specialty stores worldwide, including major department stores such as Neiman Marcus, Nordstrom and Harrods. Jovani offers an extensive collection of evening gowns, bridal wear and chic cocktail dresses, in addition to their embellished couture designs. Jovani dresses are a favorite among A-list celebrities and editors, and can be seen all over the red carpet and inside the pages of high-fashion editorials.
Contact: Felicia Garay-Stanton
Phone: (212) 279-0222
# # #