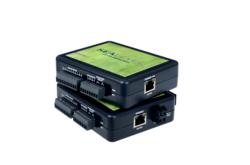 Liberty, SC (PRWEB) June 27, 2013
PRODUCT FEATURES

10/100BaseT Ethernet Modbus TCP interface
8 12-bit single-ended, or 4 differential analog inputs
2 optically isolated inputs provide dry contact switch sensing
2 SPST Form A solid-state relays have no moving parts, operate silently and have virtually unlimited switching cycles
Field wiring is simplified via removable 3.5mm terminal blocks compatible with 16-30 AWG wire
Ready for DIN rail mounting, removable plastic clip snaps onto 35mm DIN rail or can be attached to walls and other surfaces with optional screws
Optional removable spring-clamp terminal blocks available for I/O connections
Input power via removable spring-clamp terminal block
PoE version allows power and data to be transferred over a single CAT5 cable
Status LEDs display power, Ethernet link and I/O activity
Sealevel SeaMAX software supports Microsoft Windows operating systems
Sealevel Systems, Inc. announces two new eI/O products available with and without Power over Ethernet. Featuring analog and dry contact inputs and solid state relays, Sealevel's eI/O products provide system designers with a compact, cost effective alternative for monitoring and control. They are perfect for a wide variety of applications including process control, facility management, security, and broadcast automation.
Control and monitor eight 12-bit analog inputs, two optically isolated digital inputs and two solid-state relay outputs via any 10/100BaseT Ethernet connection with the eI/O-170E multifunction I/O module. The module provides eight single-ended or four differential A/D inputs that are software configurable for 0-5V, 0-10V, +/-5V, and +/-10V ranges. The eI/O-170E receives power via a removable spring-clamp terminal block. The lever-style clamping mechanism requires no tools, which simplifies field installation. The module is powered by your 9-30VDC source, or select from a variety of Sealevel power supply options. I/O connections to field wiring are simplified via removable 3.5mm terminal blocks.
Sealevel's eI/O-170PoE has all the features of our eI/O-170E module and is a Class 0 (IEEE 802.3af-2003) Power over Ethernet device. This allows power and data to be transferred over a single CAT5 cable and eliminates the need for an external power supply. With PoE, power can be supplied by power sourcing equipment including PoE injectors (midspans) and switches (endspans). I/O connections to field wiring are simplified via removable 3.5mm terminal blocks.
Sealevel's SeaMAX software suite supports the eI/O family and is designed to work with third party applications via the SeaMAX API. Sealevel's SeaMAX software drivers and utilities make installation and operation easy using Windows operating systems. Standard operating temperature range of eI/O modules is 0⁰C to 70⁰C. The eI/O-170E and eI/O-170PoE are available from stock. Call Sealevel Sales for pricing.
Sealevel Systems, Inc., founded in 1986, provides industrial computing solutions in addition to a variety of communications and I/O products including PCI Bus cards, Ethernet serial servers, USB serial adapters, PCMCIA cards, and PC/104 modules. With over 25 years of experience producing American-made products for military, government, and commercial customers, our forte is using in-house engineering skills to create custom adaptations of our COTS product line for military and government projects. For more information, visit http://www.sealevel.com or call 864-843-4343.