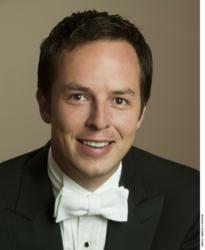 Baltimore, MD (PRWEB) June 28, 2013
Maestro Case Scaglione leads the Baltimore Symphony Orchestra (BSO) in an evening of George Gershwin's Greatest Hits on Thursday, July 25 at 8 p.m. at the Music Center at Strathmore and Friday, July 26 at 7:30 p.m. at the Joseph Meyerhoff Symphony Hall. The program will feature the jazz-filled melodies of Rhapsody in Blue, featuring pianist Jon Nakamatsu, and the timeless music from An American in Paris. Please see below for complete program details.
Rhapsody in Blue was composed in 1924 after a commission from Paul Whiteman to write a jazz concerto which would be played at a highly publicized concert at New York's Aeolian Hall. Unfortunately, Gershwin didn't fully understand Whiteman's request until he read an article about it in The New York Tribune. Panicked, he decided he would not have time to write an entire concerto, so instead wrote a rhapsody. Today, Rhapsody in Blue is still one of Gershwin's most praised works around the world. The work will be performed by Jon Nakamatsu, the 1997 Gold Medalist of the Van Cliburn Competition.
Case Scaglione, conductor
American conductor Case Scaglione inspires orchestras and audiences across North America with his natural ease of conducting, musical depth and infectious joy on the podium. In September 2011, Mr. Scaglione began his tenure as assistant conductor of the New York Philharmonic and made his subscription debut in November 2012, stepping in for Kurt Masur.
During the 2012-2013 season, Mr. Scaglione appeared as a guest conductor with the Lyric Opera of Chicago, the St. Louis Symphony, Edmonton Symphony, Jacksonville Symphony and Palm Beach Opera. He finished his season in China, where he made his Asian debut with the Guangzhou Symphony and China Philharmonic at the personal invitation of Maestro Long Yu. This summer, Mr. Scaglione will return to the Sinfonia por el Peru and conduct a production of Britten's Turn of the Screw at the Siena Music Festival in Italy.
From 2008-2011, Mr. Scaglione was music director of the Young Musicians Foundation Debut Orchestra of Los Angeles where he was the driving force behind the continued artistic growth and diversification of the organization in addition to founding 360° Music, an educational outreach program which brought the orchestra to inner city schools. His eclectic programming spanned works from Beethoven to Wagner to the Los Angeles premiere of John Adams' Doctor Atomic Symphony, which was supported by a grant from the National Endowment of the Arts.
Mr. Scaglione was a student of David Zinman at the American Academy of Conducting at Aspen where he won the James Conlon Prize and the esteemed Aspen Conducting Prize, which led to his Cleveland Orchestra debut in July 2010. Following his studies in Aspen, Mr. Scaglione was invited to serve as assistant conductor of the Aspen Music Festival and School, where he conducted a wide range of performances and served as cover conductor for all orchestral performances. A frequent guest assistant and cover conductor with the St. Louis Symphony and David Robertson, he has also assisted at the Baltimore Symphony, Baltimore Opera, and conducted the Los Angeles Philharmonic at the Hollywood Bowl alongside Bramwell Tovey. Mr. Scaglione was the recipient of the 2011 Conductor's Prize, the top award given by the Solti Foundation U.S. – a prestigious honor only awarded three times in the foundation's history.
Mr. Scaglione received his Bachelor's Degree from the Cleveland Institute of Music. His postgraduate studies were spent at the Peabody Institute where he studied with Gustav Meier. Mr. Scaglione currently lives in New York City with his wife Toni.
Jon Nakamatsu, piano
Since his dramatic 1997 Van Cliburn Gold Medal triumph, Jon Nakamatsu's brilliant but unassuming musicianship and eclectic repertoire have made him a clear favorite throughout the world both on the concert circuit and in the recording studio. He has performed widely in North America, Europe, and the Far East and has collaborated with such conductors as James Conlon, Philippe Entremont, Marek Janowski, Raymond Leppard, Stanislaw Skrowaczewski, Michael Tilson Thomas and Osmo Vänskä. His extensive recital tours throughout the United States and Europe have featured appearances at Carnegie Hall and Lincoln Center in New York City, at the Kennedy Center in Washington, D.C., and in cities such as Boston, Chicago, Cincinnati, Paris, London, and Milan.
Mr. Nakamatsu maintains a very active touring schedule with orchestra performances, chamber collaborations and solo recitals. In April of 2011 Mr. Nakamatsu made his debut at the prestigious Grace Rainey Rogers Auditorium of the Metropolitan Museum of Art in New York.
Jon Nakamatsu studied privately with the late Marina Derryberry from the age of six, and has worked with Karl Ulrich Schnabel, son of the great pianist Artur Schnabel. He has also studied composition and orchestration with Dr. Leonard Stein of the Schoenberg Institute at the University of Southern California, and pursued extensive studies in chamber music and musicology. Mr. Nakamatsu is a graduate of Stanford University with a bachelor's degree in German studies and a master's degree in education.
COMPLETE PROGRAM DETAILS:
Thursday, July 25, 2013 at 8p.m. – The Music Center at Strathmore
Friday, July 26, 2013 at 7:30 p.m. – Joseph Meyerhoff Symphony Hall
Case Scaglione, conductor
Jon Nakamatsu, piano
Tickets range from $25-$45 and are available through the BSO Ticket Office, 410.783.8000 or BSOmusic.org.