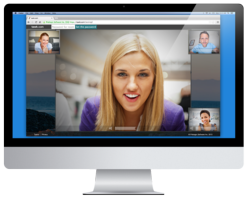 Tawk,com is targeting the 13-30 year old demographic.
Victoria, BC (PRWEB) June 28, 2013
Priologic's Tawk.com won the Best All Round WebRTC Award at the WebRTC Conference & Expo. Tawk.com is a free service that provides lightweight, secure, anonymous video chat rooms.
"What's really unique about Tawk.com is that we've removed the login to save startup time and preserve anonymity. Go to Tawk.com, name a room, send the room's shortlink to friends, they join by clicking the link, you see their picture and accept the call. Connect in seconds. Skype and Google Hangouts require you to join their club, give them personal information, then download and install a plugin or a program, minutes instead of seconds," says Doug Pelton, founder and CEO of Priologic.
Tawk.com is built on the emerging WebRTC standard so it is completely browser based, you don't have to download or install anything. And, the conversation between each person goes over HTTPS or HTTP over SSL so it's as secure as your bank transactions.
Tawk.com currently runs on the Chrome and will soon be on Firefox browser. Android devices also support Tawk.com through Chrome. And, a Tawk app for the iPhone and iPad is being built and is expected out by mid-July.
Tawk.com is targeting the 13-30 year old demographic because they tend to use Chrome and Firefox more than their parents who favor Internet Explorer, which is not yet WebRTC enabled.
Tawk.com is built on top of Priologic's EasyRTC Enterprise platform and is used by developers to speed development of WebRTC applications. With EasyRTC Enterprise, developers can get into WebRTC without using Google's App Engine or building and managing their own backend. The EasyRTC Enterprise platform is hosted in the cloud and is designed to scale to service large enterprises.
Priologic continues to support and enhance the open source version of EasyRTC which won the Best WebRTC Tool award at the WebRTC Conference and Expo in S. San Fransciso last November. Applications built on EasyRTC open source can move to EasyRTC Enterprise without changing any code. There are many demo application including source code included in the EasyRTC bundle.
To see Tawk.com, EasyRTC and EasyRTC Enterprise see Priologic at the WebRTC Conference and Expo at the Cobb Galleria convention center in Atlanta June 25-27, 2013 at booth 73.
Priologic Software is located in Victoria, British Columbia, Canada. It is a boutique software development shop that specializes in building solutions for larger enterprises. Priologic's WebRTC team has developed a full suite of WebRTC tools that it hopes to leverage for internal products and in it's consulting practice.