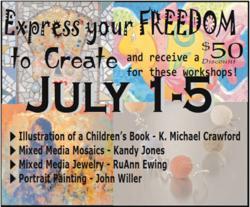 Eureka Springs, AR (PRWEB) June 28, 2013
During Fourth of July week, from July 1–5, Eureka Springs School of the Arts (ESSA) welcomes Kandy Jones, RuAnn Ewing and John Willer as guest teachers. ESSA strives to provide people of all ages, gender and nationality with educational learning experiences in the visual arts and fine crafts.
Kandy Jones will be teaching "Mixed Media Mosaics." Students will be creating works of art using mosaic techniques and using pieces from their own lives. It is the perfect opportunity to gather friends for a mini-vacation in the wonderful art hub of Eureka Springs. Jones has been teaching mixed media mosaics for over 10 years and her art is displayed in places like the Little Rock River Market and Garvin Gardens.
RuAnn Ewing will be teaching "Mixed Media Jewelry – Finding Your Jewelry Connection." Students will find their creative voice while working with sterling silver, copper, brass and found objects. They will be able to work on skills like soldering, sawing and chain making. As a blacksmith and bead artist, Ewing creates unique pieces of jewelry using metal, beads and found objects. She currently has work on display at the Crystal Bridges Art Museum in Bentonville.
John Willer will be teaching Abstract Painting. Students will learn to add flow and motion into their paintings, keeping them loose and alive. The process of finding and developing subjects within the images will feed your creativity.
Each five-day workshop will take place from 9 a.m. – 4 p.m., July 1-5. For information on tuition, lab fees and materials, please visit the ESSA website, where students can also register for the sessions.
About the Company:
Eureka Springs School of the Arts is a non-profit organization bringing art education to Northwest Arkansas. Eureka Springs School of the Arts provides art classes, workshops and team building events to companies and individuals of all ages. Eureka Springs School of the Arts brings people together with mixed backgrounds, ages, and nationalities to work with their hands in a supporting and encouraging way, welcoming all regardless of their talents, skills and interests. They create a lasting memory and students create a lasting awareness. For more information, visit http://www.ESSA-art.org.