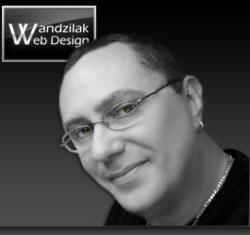 There is huge demand for specialty social networks right now. Anyone can take their 'club' concept online and bring people from all over together.
Palm Bay, Florida (PRWEB) June 27, 2013
Mike Wandzilak is a professional web developer with wide-ranging interests and he knows where and how to find others who share his passions. Since understanding computers and websites is his business, that expertise has always supported his ability to find like-minded people who love art, philosophy and abstract thoughts on just about any topic. Although his services at Wandzilak Web Design have been centered primarily on business site development, recently his focus has been shifted to creating specialty social networks, requested by interesting people who have a vision they want to share.
"Until recently, the perception was that a social network is all about complex sites and which network could capture the most subscribers," says Wandzilak. "Now that the model for social networking has been used and has proved successful, people with varying interests are looking for like-minded others who have a fascination with more specific topics and activities." And just like consumers know how to find stores with particular brands, they can also query online for web developers with the skill and the imagination to create a venue, a vehicle for varying numbers of people to use when uniting in common affinities.
When the economy tanked in late 2008, a plethora of job-search websites launched for the unemployed to pore over daily and millions of seekers learned to spend time on a computer. Recently online browsers have found Mecca in Pinterest, where a search for a certain recipe can lead to hours of educational and entertaining perusing from one how-to to another. And so the door has opened for computer users to scrutinize any number of websites to find just that thing that becomes part of a person's daily engagement.
Following this increase and elevation of the everyday user, Wandzilak Web Design has had multiple requests to create specialty social networks across the spectrum. Some offer high visibility for the participants while others are structured to offer some anonymity. Caribboom, for example, is up and open with a soft launch, and it's a performing venue that includes music, video, poetry, chat, cooking or whatever gift a member wants to showcase. Periodically there will be genre contests with submissions rated by peers. HollieBlue is soon to launch, and it's a network for people who want a "Healthy, Playful, Sexy" lifestyle. HollieBlue urges participants to not only "think outside the box" but to "leave the box behind". Another specialty social network mixed with a digital retail hub is Cinemarama, for artists of all kinds (video, music, design) and all levels. These three new websites are representative of how users want to enjoy connections with others within perhaps smaller parameters yet keeping the possibility of global exposure. In so many ways this attraction to commonality is not unlike the Rotary Clubs, the Lions Clubs community theater companies, and the Knights of Columbus-type organizations of previous generations.
"For those ready to start their own specialty social network, look for a web designer who has done one before," advises Mike Wandzilak, owner of Wandzilak Web Design. "It helps get off the ground faster. Also, look for the whole package of services that includes hosting, design and development with search engine optimized structures. My clients have appreciated other amenities like unlimited email addresses and no restrictions on the size or the number of boxes. I believe optimal customer service should also include always getting a human on the phone when it's necessary to call. Most consumers don't need a complex, high-end website, and we choose platforms that fit consumer needs. We price these websites within reasonable budgets and the price includes all the necessary tools and our SERP management services. SERP is the acronym for search engine results page, and ultimately, SERP management is what gets your site found on the internet."
Wandzilak Web Design believes that building site recognition organically creates a stronger overall foundation, and once the concept is manifested and the site is live, then aggressive SERP management will take care of the rest. "There is huge demand for specialty social networks right now. Anyone can take their 'club' concept online and bring people from all over together into a special clique. It's wonderful to make it possible for people to both reach and join in without geographical limits."
About Wandzilak Web Design
Wandzilak Web Design, "Powerfully Innovative", is a small group of professional web designers and developers who are dedicated to creating powerful, effective and engaging websites. Bold design style and use of ultra clean standards-based markup code combine to produce websites that boast exceptional search engine result positions, increased conversions and superior visitor loyalty. Wandzilak Web Design creates strong internet marketing campaigns and effective web presences for small to medium size businesses. They specialize in designing powerful branding, and developing W3C standards-compliant websites that are compatible with the latest devices.
Contact Information:
Mike Wandzilak
Owner, Wandzilak Web Design
Info(at)wandzilakwebdesign(dot)com
800.765.2042