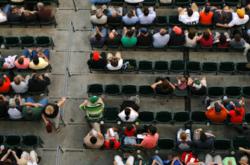 Each quarter, HR Strategies will be featuring four vendors from their Perks Program; offering extra discounts from those vendors.
Duluth, Georgia (PRWEB) June 28, 2013
HR Strategies' began their Perks Program in 2010, and this summer, they are really ramping up the discounts. They are working on a campaign to provide additional discounts seasonally for top vendors around Atlanta. While continuing to update their Perks Program page on their website, the vendors they work with are always updating both the discounts and the technology in their portals.
Each quarter, HR Strategies will be featuring four vendors from their Perks Program; offering extra discounts from the vendors during their respective quarters. This summer, during the third quarter, HR Strategies will be featuring Six Flags, White Water, Stone Mountain Park, and Delta Classic Chastain. HR Strategies clients can purchase Six Flags and White Water tickets at a discounted rate through the Six Flags ticket portal found on the HR Strategies website. This portal is password protected and can only be accessed by HR Strategies' clients. The specific username and password can be entered from any computer or device, at any time, day or night providing clients and their worksite employees the ability to gain the discounts at a moments notice.
Stone Mountain Park will also be featured during July, August and September. The park is in the Atlanta area and only about 20 miles from HR Strategies' Duluth location. HR Strategies' internal staff participated in a team-building day at Stone Mountain last year. There are many attractions, festivals, and activities planned for the coming months at Stone Mountain Park, and HR Strategies is proud to be able to offer money saving opportunities to their clients and worksite employees. HR Strategies also offers discounts on the Stone Mountain Park adventure passes, which can also be accessed through the HR Strategies website on any device.
Lastly, HR Strategies will be offering discounts up to 20% for certain concerts and events at Delta Classic Chastain this summer. As always, all of the Perks Program discounts are available to HR Strategies clients and their worksite employees. The new promotion campaign is meant to provide additional perks during their featured quarter. However, there are still discounts available on all the vendors in the HR Strategies Perks Program; including AT&T, Office Depot, Atlanta Braves, Gwinnett Braves, Zoo Atlanta, the Georgia Aquarium, the Alliance Theatre, Verizon Wireless Amphitheatre, and AAA; even when not featuring deeper discounts that quarter. Other perks vendors who aren't currently selling tickets, but will be in the coming months are the Atlanta Falcons, the Atlanta Hawks, and Snow Mountain.
About HR Strategies
HR Strategies provides the customizable HR Solutions (including but not limited to payroll, benefits, workers' compensation, tax administration, regulatory compliance, HR consulting, training solutions) and expertise of a large corporation's personnel department in an affordable and effective solution. HR Strategies enables clients to reclaim time, stabilize and reduce labor costs, and stay compliant with government regulations.