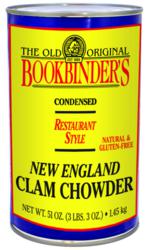 "We recognize there is a growing need for great tasting, healthy foods that can be easily prepared." - Colin O'Neil, Bookbinders New Business Development Manager
New York, New York (PRWEB) June 28, 2013
Bookbinder Specialties, a PA Preferred Company, will be showcasing a new, gluten-free, all natural New England Clam Chowder for Food Service applications, as well as its line of gourmet, ready-to-serve soups at the upcoming Summer Fancy Food Show in New York City.
The Summer Fancy Food Show, North America's largest Specialty Food and Beverage event, will be held at the Jacob Javits Convention Center, from June 30 - July 2, 2013. The show will feature over 180,000 products with 2,400 exhibitors from 80 countries & regions
"We're a small company focused on providing the ultimate in quality and convenience for our customers," said Colin O'Neil, Bookbinder's New Business Manager. "We recognize there is a growing need for great tasting, healthy foods that can be easily prepared. Furthermore, Celiac disease and gluten sensitivity are increasing and many people need a range of healthy and great tasting alternatives."
Bookbinder Specialties will be showcasing two food service products, their brand-new, all-natural and gluten-free New England Clam Chowder and their legendary Snapper (turtle) Soup. Their award winning line of all natural, gluten free, ready-to-serve vegetable soups, in 15 oz glass jars will also be on display.
The first four flavors in the gourmet line, which were introduced in 2010, were awarded a gold medal in the 2011-2012 Gourmet Products Awards. Dozens of food judges, including VIPs, celebrity chefs, professional consultants and specialty retail store owners, selected the Bookbinder soup line as the best new gourmet product in the Soup, Stews and Beans category. The four original flavors included Butternut Squash and Mushroom Soup, Zesty Tomato Soup, Brandywine Mushroom Soup, and Sweet Burgundy Onion Soup. The awards revealed the growing interest in gourmet taste, healthy ingredients, green packaging, and supporting charitable causes. Since then, the gourmet soup line has expanded with four new unique flavors including Cuban Black Bean Soup, Irish Potato Leek, Tuscan Minestrone, and Sicilian Tomato-Zucchini Bisque.
The Media, Pennsylvania-based Bookbinder Specialties Company, sell soups and seasonings based on favorite recipes from the Old Original Bookbinder's restaurant, established in 1865 in Philadelphia's historic Old City. Today, Bookbinder Specialties carries on the traditions of the restaurant while catering to the expectations of the nation's gourmet consumers. The soups are sold in select natural and specialty food stores across the United States, with a concentration in the Northeast.