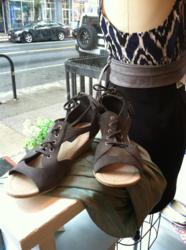 "The Rana Plaza factory collapse in Bangladesh killed thousands of apparel workers, and is the worst accident in the history of the apparel industry."
Brooklyn, NY (PRWEB) June 27, 2013
Meet Ethical Fashion Designers – Swati Argade, Natalie Frigo and Francisca Pineda, – and hear them discuss today's New York Times announcement that the US will suspend trade with Bangladesh. The Q&A will start at 630pm at Bhoomki Boutique in Park Slope, Brooklyn located at 158 Fifth Avenue. The suspension occurs in the wake of the Rana Plaza factory collapse which killed thousands of apparel workers two months ago, and is the worst accident in the history of the apparel industry.
The designers will also discuss the ins and outs of ethical fashion. Topics like fair trade manufacturing, ethical fabric sourcing, and identifying like-minded retailers will also be addressed. For these designers, being ethical starts with sourcing from suppliers who share a commitment to sustainable manufacturing. This can mean supporting organic farmers, natural dyes based from Ayurvedic principles, traditional arts like hand weaving, and sourcing recycled and reclaimed components. Each designer's commitment to ethical fashion is very personal.
Swati Argade, Owner and CEO of  Bhoomki, creates clothing collections made from sustainable fabrics, which support artisan livelihoods around the world. In 2003, Swati launched her eponymous womenswear line, selling to specialty boutiques across the United States, Europe and India. Her collections are known for incorporating handmade fabrics with classic and tailored silhouettes. In 2011, Swati opened Bhoomki Boutique in Park Slope, Brooklyn. Bhoomki carries clothing and accessory brands dedicated to environmental and/or social responsibility, including its in-house line designed by Swati.
The Bhoomki label sources and partners with fair-trade certified manufacturers who responsibly support traditional crafts like block printing, hand weaving, embroidery, and dyeing. It produces bimonthly, focused, capsule collections that not only support artisan communities in places like India, Indonesia and West Africa, but also producers of organic, recycled and low carbon footprint fabrics. Currently, Bhoomki proudly cuts and sews its clothing locally in NYC's Garment Center.
Natalie Frigo's  passion is creating unique, heirloom jewelry that treasures the extraordinary beauty in every client. Sculpting all of the designs by hand in her lower Manhattan studio, Natalie personally attends to each detail using the ancient practices of metal smithing and 'cire perdue' (also known as lost-wax casting). The organic forms are then hand cast and finished using only recycled metals and personally selected, ethically sourced gemstones. All work, every step of the way, is done in New York City. Natalie's inspiration ranges from early metallurgy and textile design to recent architectural developments, culminating in a collection that is contemporary, but by referencing venerable artifacts, also feels timeless.
Francisca Pineda is an award winning fashion designer with over 15 years of experience designing apparel and accessories for New York's top brands. She is currently the creative director for BHAVA, a women's fashion shoe brand she co-founded with Rushali Sanghani. Bhava is named after the designers' shared devotion to purity and consideration for others, the highest form of Bhava.  This collection sets a new standard in footwear design by sourcing the highest quality hand-woven, organic, recycled and cruelty free components.  The Bhava  aesthetic represents timeless elegance with a dose of  ingénue  charm.  "Our mission is to create a harmonious footwear experience,  as in tune with our environment as our spirit." An advocate for ethical practices in the industry, Francisca started the Ethical Fashion Academy in 2012, a community focused initiative that organizes eco-fashion events in New York City and a yearly hands-on  Fashion Workshop in Costa Rica.  She will be speaking at this year's Sustainable Fashion Beauty & Health Symposium FIT.