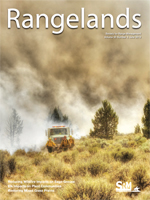 Lawrence, KS (PRWEB) June 28, 2013
A conservation partnership across 11 western states is bringing a more unified approach to reducing threats to the sagebrush ecosystem and the wildlife that inhabits it. It is a proactive tactic to reduce the fuel that can feed wildfires and also lay a course for recovery of desired plant and wildlife in the wake of a fire. These actions also have the goal of protecting a threatened bird—the greater sage-grouse.
An article in the June issue of the journal Rangelands describes fire and fuels management activities. Land use management plans by the Bureau of Land Management and the Forest Service are incorporating state- and local-based solutions such as the Wyoming Governor's Sage-Grouse Executive Order that reduces the energy footprint in high-abundance sage-grouse "core areas."
The sage-grouse has been found to warrant protection under the federal Endangered Species Act, although higher priorities have precluded it from being added to that list until 2015. Sagebrush ecosystems, home to the sage-grouse, are becoming more fragmented and are being invaded by exotic grasses such as cheatgrass, which offers fuel for wildfires. Sagebrush responds poorly to fire. It can take decades to recover following a wildfire, creating concerns for those trying to maintain stable populations of wildlife.
Reducing the impact of wildfire has become a large-scale goal. Already, more than 95 percent of fires are contained in the initial stages each year. But the ones that get away cause millions of dollars in damage and set back efforts to preserve sagebrush ecosystems.
The Bureau of Land Management now pre-positions fire crews, equipment, and aircraft in areas where fire ignitions are predicted. When a fire is reported, fire management can prioritize minimizing the impacts to sage-grouse habitats. For example, fire can be suppressed in large interior "islands" of sagebrush where it previously would have been allowed to burn out.
After a fire, habitat recovery can be assisted by preventing soil loss or conversion to grasslands. Because opportunities for rehabilitation of the land can be limited, having a plan already in place is essential. One effort underway brings together science and management—restoration techniques that improve the success of postfire seeding and use fungi and bacterium to inhibit annual grasses are being tested.
Full text of "Trial by Fire," Rangelands, Vol. 35, No. 3, June 2013, is now available.