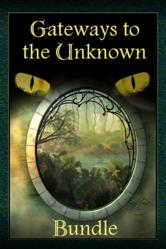 (PRWEB) June 30, 2013
60% Off "Gateways to the Unknown" Fantasy eBook Bundle:
What is more fantasy than a gateway to anther time and place? In the bundle, our protagonists enter other worlds to fight demon animals, soulless machines and other forces of evil. Avalon Web of Magic #1: Circles in the Stream, a bestselling YA series, introduces us to three unlikely friends and powerful mages. In Gate of the Cat, our heroine Kelsie falls through a stone ring into another world. In Realty Check, beloved author Piers Anthony shares tales of a mysterious house which transports occupants to other times and places. Will our heroes defeat their foes and find there way back through their gateways and home?
eBooks included in this bundle for $5.99:
Reality Check by Piers Anthony
The Gate of the Cat by Andre Norton
Moon Called by Andre Norton
Avalon Web of Magic #1: Circles in the Stream by Rachel Roberts
About eBook Bundles:
At eBook Bundles, we love to read. So much so that it can get expensive! So, we created eBook Bundles to deliver best-selling authors and books to dedicated readers. We sell our books as bundles so that we can offer them at heavily discounted prices. Even if you already own one or more books in the bundle, the price is so low that you still get a great deal! Bundles are also our way of recommending new authors and books to you, based on ones you may already be familiar with. We know what a joy it is to discover a new author, and it's our goal to open your eyes to new writers, or the lesser-known works of authors you already love.