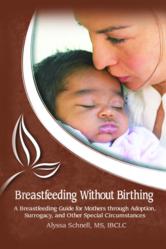 Breastfeeding is entirely possible for adoptive mothers and others who have not given birth.
Amarillo, Texas (PRWEB) June 29, 2013
When Alyssa Schnell and her husband, Brad, decided to adopt, she knew she want to breastfeed her new baby. She had breastfed her two children by birth, and knew that breastfeeding was an important part of how she mothered a baby. Because of her prior breastfeeding experiences, and her experience as a lactation consultant in private practice, she had access to plenty of support, information, and resources. She also recognized that most prospective adoptive and intended mothers did not have the head start on breastfeeding that she had.
Alyssa recognized an important need, and decided to write a book to give other mothers access to the information that they will need to breastfeed their adoptive babies. Breastfeeding Without Birthing, published by Praeclarus Press, is a step-by-step guide for mothers who have not given birth, but want to breastfeed their babies.
Breastfeeding-without-birthing mothers include:
Adoptive Mothers. The adoptive mother is a woman who has adopted a newborn, an older baby, or a toddler whom she wishes to breastfeed.
Intended Mothers. An intended mother is a mother whose baby is born via surrogacy. An intended mother will take a very similar breastfeeding route as an adoptive mother, but her circumstances are simpler and more certain.
Breastfeeding Without Birthing can also be helpful for other mothers including:
Relactating Mothers. The relactating mother is a mother who birthed her baby, and who is not currently making milk--but would like to.
Non-Gestational Lesbian Mothers. The baby of lesbian parents may be breastfed by her gestational mother, as well as her non-gestational mother, in a breastfeeding scenario sometimes called "co-breastfeeding" or "co-nursing."
Exclusively Pumping Mothers. The exclusively pumping mother is producing milk for her baby. She expresses her milk with a breast pump throughout the day, and then bottle-feeds her baby her expressed milk.
Breastfeeding without birthing involves a fair amount of effort, but according to the mothers interviewed for this book, it is well worth it. Breastfeeding promotes bonding between the mother and baby, provides essential infant nutrition, and helps with the development of the baby's immune system, especially important when babies come from other countries and may not have immunity to pathogens in their new countries.
Breastfeeding also protects the mother's health, including reducing her risk of cardiovascular disease and reproductive cancers. It lowers mothers' stress levels, and can help heal the heartache of infertility. Breastfeeding aids in a babies' transition from their gestational mothers to their adoptive mothers, and promotes normal infant development. While each of these benefits of breastfeeding is valuable for every mother/baby dyad, they are especially important for breastfeeding-without-birthing mothers and their babies.
Breastfeeding Without Birthing is an essential guide for mothers through adoption, surrogacy, and other special circumstances. All breastfeeding-without-birthing mothers who wish to provide their own milk for their babies will learn the tools and techniques for inducing lactation without pregnancy and birth.
Breastfeeding Without Birthing is available now from Praeclarus Press. Praeclarus Press is a small press specializing in women's health.