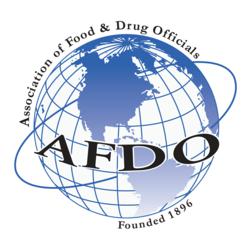 Dan Smyly has been an exemplary leader in the field of food safety throughout his career. - Gerald Wojtala
Louisville, Ky (PRWEB) June 28, 2013
Dan S. Smyly, a retired executive and former director of Florida's Division of Food Safety who has played a key role in the development of a fully integrated national food safety system, was awarded the Harvey W. Wiley Award on June 11, 2013, at the 117th AFDO Annual Educational Conference.
The Harvey W. Wiley Award is AFDO's most prestigious award. It is presented to a regular or honorary member for exceptional service to the state or nation in the performance of duties and responsibilities in the administration and enforcement of food and drug law and/or consumer protection laws and demonstrated promotion of the objectives of the association.
The award recipient is determined by the Wiley Award Subcommittee, which consists of past winners of this award and is chaired by the most recent recipient, Gerald Wojtala, executive director of the International Food Protection Training Institute.
"Dan Smyly has been an exemplary leader in the field of food safety throughout his career," Wojtala said, "and he remains actively engaged in the work of the Association of Food and Drug Officials. When he was president of AFDO, he initiated the dialogue on developing a fully integrated national food safety system, and he continues to work toward that goal."
Smyly served as director of Scientific & Regulatory Affairs for the Coca-Cola Co., North America Group, in Atlanta, from 1998 until his retirement on March 31, 2013. Prior to joining the company, he served as director of the Division of Food Safety in the Florida Department of Agriculture and Consumer Services. He also held the position of state chemist and director of the Division of Chemistry as well as other scientific and administrative positions during his 28-year career with that state agency.
Smyly currently serves as a member of the AFDO Associate Members Committee and the AFDO Endowment Foundation Board of Trustees and is a past industry representative to the AFDO Board of Directors. He also served as vice chair of the Conference of Food Protection, the highest office allowed for industry representatives.
The award he received from AFDO is named in honor of Dr. Harvey Washington Wiley, chief of the Bureau of Chemistry of the USDA in the early 1900s. Wiley's contribution to science and consumer protection, coupled with his progressive advocacy for change and reform of food and drug regulations, culminated in the passage of the Pure Food and Drug Act of 1906.
About AFDO
The Association of Food and Drug Officials (AFDO), established in 1896, successfully fosters uniformity in the adoption and enforcement of science-based laws, rules and regulations regarding food, drugs, medical devices, cosmetics and product safety by either drafting regulatory rules or commenting on government proposals. By developing a broad base of support for new approaches, AFDO has become a recognized voice in determining the rules and shape of the regulatory playing field of the future. The consensus that AFDO develops is key to advancing uniform laws, regulations, and guidelines that result in more efficient regulation and less confusion among industry in the marketplace. AFDO develops support for its positions by interfacing with high-level regulatory officials, industry representatives, trade associations, and consumer organizations. This effort continues to have a significant impact on regulations at the federal, state and local level. For more information, visit http://www.afdo.org. Inquiries about AFDO can be directed to AFDO Executive Director Joseph Corby.