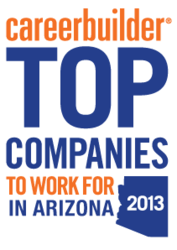 We have worked diligently to create a collaborative, team-based culture and have found that there are substantial benefits to our clients in creating such an environment.
PHOENIX (PRWEB) June 27, 2013
Miller/Russell & Associates, one of the premier, independent investment advisers in Arizona, was named this week on the list of CareerBuilder's Top Companies to Work For in Arizona. The firm was listed in the top 50 ranking after undergoing a rigorous data collection process and employee-wide survey.
The new statewide workplace awards program, hosted by CareerBuilder and Republic Media (The Arizona Republic, azcentral.com and La Voz), recognizes organizations that create quality jobs and work environments, making Arizona a better place for the workforce.
"The business environment today is characterized not just by global competition and ever-increasing technologies, but also by a heightened appreciation for the quality of the workplace," said Denise Gredler, founder and CEO of BestCompaniesAZ, the company that facilitated the process. "In a world of continuously shrinking margins, an intentional and progressive human resource strategy is critical to creating and sustaining competitive advantage. One measure of such strategies is the quality of the workplace experience."
Miller/Russell is the only independent investment advisor ranked on the list.
Companies were evaluated and selected based on a combination of overall satisfaction scores from an employee engagement survey and evaluation from an employer questionnaire covering topics related to HR programs, benefits and workplace culture.
"We are proud to be recognized as one of Arizona's 'Top Companies to Work For'. We have worked diligently to create a collaborative, team-based culture and have found that there are substantial benefits to our clients in creating such an environment. Our team is more productive and resourceful, which ultimately results in better financial solutions for our clients," said Mark Feldman, CEO and managing partner of Miller/Russell. "Additionally, the fact that Miller/Russell is a partner-owned firm helps us to continually attract and retain the most talented financial, wealth management and tax professionals and cultivate them into future leaders and future owners of the firm. There is truly opportunity for our employees around every corner at Miller/Russell."
Winners were announced at a "Top Companies" breakfast reception June 20 and the full list and related stories appeared in a special supplement inserted in the June 23 edition of The Arizona Republic, and online at TopCompaniesAZ.azcentral.com.
About Miller/Russell & Associates
Miller/Russell & Associates is one of the Southwest's largest wealth management and registered advisory firms, headquartered in Phoenix. Independent, partner-owned and immersed, Miller/Russell provides investment, wealth management and tax compliance and consulting services to individuals and families, corporate retirement plans, endowments and foundations, and sovereign nations throughout the Western United States. The firm currently has $1.8 billion in assets under management and employs more than 40 professionals and support staff. Miller/Russell has earned the prestigious CEFEX certification, an independent assessment that recognizes that the firm adheres to the industry's best fiduciary practices. For more information, visit miller-russell.com.
About Republic Media
Republic Media is a consultative media company that provides you with the means to deliver your message to the right audience in the most effective way. From online to print to direct mail, Republic Media encompasses an array of products including The Arizona Republic, azcentral.com, 12 News, and La Voz. Since 1890, The Arizona Republic continues to be Arizona's most trusted and most read newspaper. http://www.RepublicMedia.com
About CareerBuilder®
CareerBuilder is the global leader in human capital solutions, helping companies target and attract their most important asset - their people. Its online career site, CareerBuilder.com®, is the largest in the United States with more than 24 million unique visitors, 1 million jobs and 49 million resumes. CareerBuilder works with the world's top employers, providing resources for everything from employment branding and talent intelligence to recruitment support. More than 10,000 websites, including 140 newspapers and broadband portals such as MSN and AOL, feature CareerBuilder's proprietary job search technology on their career sites. Owned by Gannett Co., Inc. (NYSE:GCI), Tribune Company and The McClatchy Company (NYSE:MNI), CareerBuilder and its subsidiaries operate in the United States, Europe, South America, Canada and Asia. For more information, visit http://www.careerbuilder.com.
###