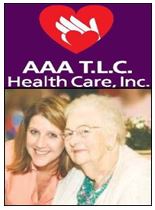 According to a spokesperson for the agency, "We are fully committed to our mission of providing the very biggest positive impact we can on our patient and their quality of life."
Encino, CA (PRWEB) June 28, 2013
AAA TLC, one of the premier service providers of senior assistance in the Los Angeles community, is proud to announce that it will now offer free, in-person consultations. The organization is proud to provide its future patients the opportunity for a free, personalized patient care assessment.
In Los Angeles and the San Fernando Valley, AAA TLC is open 7 days a week and available for in-person assessments. This gives patients a chance to see where they stand as far as their ability, and also giving them a useful chance to see if AAA TLC would be a good fit for their particular needs. Best of all, the consultation service is a complimentary and obligation-free opportunity.
Looking beyond the in-person consultation, AAA TLC offers a wide range of senior home care services. Some of the many available services include nannies, drivers, nurses, companions, home health aides, and home caregivers. According to a spokesperson for the agency, "We are fully committed to our mission of providing the very biggest positive impact we can on our patient and their quality of life." The agency accomplishes its mission by selecting only the most qualified professionals, who are so good at their jobs that hospitals and physicians frequently call them in for their toughest medical cases.
About AAA TLC
For over 20 years now, AAA TLC has strived to realize its founders' vision of an affordable and quality home care agency with a knowledgeable and compassionate staff of caregivers. The agency proudly employs an outstanding staff of registered nurses, certified nursing assistants, respiratory therapists, and companions, and many more. With competitive pricing and the very best caregiver and assisted living care services available in the area, AAA TLC is the obvious choice for patients who are looking for quality care of any sort. For more detail please visit, http://www.aaatlc.com/.