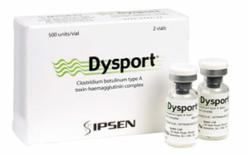 All of my patients who tried Dysport commented that it worked faster, results were more dramatic and lasted several weeks longer than after Botox treatment
Newton, Massachusetts (PRWEB) June 28, 2013
It's summer and during these hot months, Masha Banar, Board Certified Physician Associate and Medical Director of Visage Sculpture of Newton, Massachusetts, is seeing more and more patients coming in with requests for Botox and Dysport injections to treat their excessive sweating. "This service is extremely popular around warmer months of spring and summer," says Banar PA-C.
According to the recent study published in Journal of the American Academy of Dermatology, hyperhidrosis affects almost 8 million individuals, or 2.8 percent of the population. Hyperhidrosis is excessive sweating of the underarms, palms of hands, soles of feet, scalp and the face. Half of the people who are affected have axillary hyperhidrosis, or excessive sweating of the underarms and can be secondary to metabolic diseases like Diabetes and Thyroid problems, certain medication use, but most commonly it's idiopathic and emotionally induced.
"In axiallary hyperhidrosis, sweating interferes with daily activities and causes a lot of emotional problems. People cannot wear certain clothes (silk, acrylic fabrics, light colors) as they show the stains more. They also often feel embarrassed in social situations like public speaking or dating," Masha said.
Hyperhidrosis can also lead to a more serious condition. The American Academy of Dermatology concludes that there's another implication of hyperhidrosis induced-skin infections.
Treatment of this condition includes prescription strength antiperspirants, radio frequency waves, surgical denervation, and neurotoxin injections. Botox is FDA approved to treat hyperhidrosis and results can last up to a year. Banar PA-C prefers to use Dysport for this treatment as its results and longevity are superior to that of similar products. A study showing Dysport as being more effective can be found here: (link). "All of my patients who tried Dysport commented that it worked faster, results were more dramatic and lasted several weeks longer than after Botox treatment" says Masha.
Complimentary consultations can be scheduled by calling (617)501-7055 or via e-mail. Office is located at 31 Channing Street, Newton Corner, MA 02458.
About Visage Sculpture
Visage Sculpture is a premier Cosmetic Center dedicated to helping people look and feel more attractive, refreshed, and youthful in the most natural gentle way. Founded by Masha Banar, Board Certified Physician Associate, with more than a decade of experience in Plastic and Reconstructive Surgery, it has been featured on ABC News for its unique alternatives to surgical procedures (non-surgical rhinoplasty and TMJ treatment).
About Masha Banar, PA-C
Masha is a National Educator for Sculptra Aesthetic and teaches facial anatomy and injection techniques to Physicians and Nurses. She has treated thousands of patients and has one of the busiest practices on the East Coast. Masha worked with Sculptra and treated hundreds of cases of HIV lipoatrophy with the product. Masha's innovation, non-surgical rhinoplasty (or nose job), has been featured on the local news channel and remains the most popular procedure offered in the clinic. Her extensive experience combined with artistic background and intuitive appreciation of proportions of the face brings ease to all procedures offered.