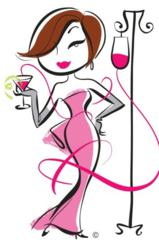 Waycross, GA (PRWEB) June 27, 2013
Today Care Pax & Co. launched their first two products – Got your Back Pax and My Chemo Cocktail & Me – Bringing Order, Peace and Joy to a Twisted Adventure. The products were created by cancer survivors in an effort to address the real, everyday challenges that women experience while going through chemotherapy for breast cancer.
The products came about out of the real life experiences of Sharon Crews and Lucy Gross-Barlow. Both breast cancer survivors, each had a unique perspective. Sharon had experienced the brutal reality of the effects of chemotherapy. Following Sharon's treatment of aggressive breast cancer, she would learn of other women around her who were faced with chemotherapy. She would think, "That sweet girl has no idea what she will need going into her first treatment." And, "I wish I would have had a system of organization during chemo, because my life would have been much more manageable." In fact, Sharon was quoted saying, "The funny thing is you don't have the whole thing figured out until the end of your treatment! So one-by-one each new patient reinvents the wheel. Why can't we pass on the wisdom of the entire journey to the Newbie?"
Lucy had experienced the dull reality of walking by all of the lonely, desolate faces sitting in the chemotherapy treatment room as she made her way into her radiation treatments. On one particular day she caught the vision that Sharon had seen for years…to provide comfort and support to those with a new cancer diagnosis. Both ladies are speech pathologists, and long-time friends, they came together to bring this vision to fruition. In this partnership, the vision is complete.
"I am thrilled that we are launching. This has been a mission and a labor of love! Up until now, the cancer community has created a fantastic two-legged stool-early detection and finding a cure. Lucy and I whole-heartedly support these causes. The truth is, without them we simply would not be here to tell our stories. But a two-legged stool is incomplete. We want to create a grass-roots movement that seeks to support 'Her'…the woman today who is walking into a clinic to begin her chemotherapy. She is a reality over and over. She is facing one of the greatest fears...chemotherapy. She needs our support!," said Sharon Crews, co-founder Care Pax & Co.
Every day there are 641 women diagnosed with breast cancer. Many hospitals across America are treating over 300 women annually with chemotherapy for breast cancer. Unfortunately, the facts are the facts but for these ladies, they do not have to be the cold reality.
"For us, it's about supporting women while we wait for a cure. There are hundreds of friends and family members that are going through the experience of chemo daily. Yet, there are virtually no resources that provide the practical guidance a woman needs. From organizing days to managing medications to maintaining records and keeping a journal while trying to figure out how to organize volunteers, all of these things and more are in the My Chemo Cocktail & Me guide. We made it complete, comprehensive, practical and easy to use. Our way of helping women keep it together in the twisted journey of chemo," said Lucy Gross-Barlow, co-founder Care Pax & Co.
Product Information:
Got your Back Pax is a care package filled with all of the items women will need to comfort them, assist them and support them while going through chemotherapy treatment. Each item was hand selected based upon the specific needs that these two cancer survivors found. From lemon drops to curb the taste from harsh medicines to an ice pellet tray for just the right size of ice to suck on to a soft blanket to take off the chill that usually occurs during treatment, the pack is filled with all the necessary items to comfort and support a patient.
The back pack was specifically designed to alleviate pressure with a comfy single sling strap and for those days when a woman can't carry weight on her shoulder, there is a convenient finger loop at the top. All items fit neatly and conveniently into the pack giving the woman only one thing to remember on the way out the door, the Got your Back Pax.
My Chemo Cocktail & Me - Bringing Order, Peace and Joy to a Twister Adventure. This is a complete chemo guide for beginners that was written for those whose journeys are just beginning. It is like a girlfriend who has been there and done that and is ready to guide the way, all bound up in book form.
It provides a compass for the patient during treatment and acts as an organizer for important medical information, insurance documents and even medicine schedules. All of which can not only be overwhelming but when "chemo brain" sets in, these guides and trackers are extremely important to keep things in order and reduce stress. It is a complete chemo management system.
It also includes tools to help organize support from those who want to help, but don't know how to.
Table of Contents:

Greetings from the Girls of My Chemo Cocktail & Me
From Pigtails to Curling Irons – My Life Reflections
Shaken but not Stirred – Keeping my twisted days organized
Will you clean my Toilet? - Allow others to…Be your hands and feet
Dear diary, Today I… - My twisted tales
Take me away, Calgon – Suitable diversions for chemo treatments
Put your big girl panties on – Your life begins NOW
Aftermath
Both products can be purchased at http://www.MyChemoCocktailandMe.com.
About
Got your Back Pax and My Chemo Cocktail & Me are two products created by Sharon Crews and Lucy Gross-Barlow, co-founders of Care Pax & Co. They formed the company with the mission to provide support tools and resources to those going through chemotherapy. Their tagline, Supporting You While We Wait for the Cure, expresses the overall mission for these two cancer survivors. Lucy and Sharon, dubbed the Chemo Girls, co-host the Cancer Survivor's show, a weekly podcast providing education and inspiration dosed with a sense of reality and sprinkled with southern humor and charm. They address the real issues women and their support systems are facing while going through chemotherapy. People can subscribe to the podcast on their web site – http://www.MyChemoCocktailandMe.com. The ladies will be launching additional products all aimed at providing solutions to those dealing with chemotherapy. For more information contact Sheila Stewart at 303-378-2022 cell or sstewart(at)sheilastewartpr(dot)com.