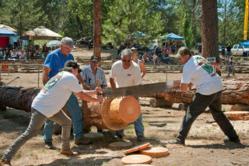 It's a great event that celebrates North Fork's heritage and what was the way of life here for so many years
North Fork, CA (PRWEB) June 28, 2013
A long-running tradition continues July 6 and 7 as hundreds of loggers will be competing in the 54th annual North Fork Loggers Jamboree.
The annual competition pits amateur and professional loggers against each other in categories such as axe throwing, hot saws, log rolling and many others.
"It's a great event that celebrates North Fork's heritage and what was the way of life here for so many years," said Scott Marsh, president of the North Fork Chamber of Commerce. "It's a fun way to honor North Fork's past," he added.
Popular Events like the hot saw competition have competitors handling massive chainsaws attempting to cut a slice from a large log as quickly as possible while in the tree-felling competition; loggers cut down logs as tall as trees and attempt to direct their fall to hit a specific spot. Each competition takes strength, skill and stamina.
While each of the events has roots in the past, the competitors reflect modern times as well. "It's really great seeing co-ed teams in various competitions and female competitors who compete in the various events," said Marsh.
"Honoring the history and welcoming new competitors both men and women alike really makes this event special."
In addition to the competitions, there is the annual Wood Choppers Ball on Saturday night at 8:30 featuring popular country band Wheelhouse.
All of the events take place at the North Fork Recreation center located at 33507 Recreation Road 230. For more information, contact the North Fork Visitors Center at 559-877-2410 or Kathy Thornburg at 559-676-7766 or visit the North Fork Boosters website at http://northforkboosters.org/.