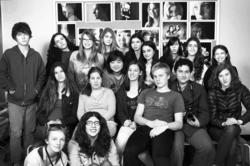 Pasadena, CA (PRWEB) June 28, 2013
Pasadena Waldorf High School held its first art show on June 5th, attended by members of the greater school community. Corby Gallegos and Ted Masur led the arts faculty in putting on the event in collaboration with the 9th grade class. On display in the gallery were photographs, paintings, sculpture, drawings and examples of the students' handwork from the 2012-13 year. Students also provided musical performances, readings of original poetry and a student-choreographed dance number developed with the assistance of Physical Education teacher, Evan Rosenblatt.
The art show offered a snapshot of not only the culmination of the class work over the course of their first year, but also of the first year of the newly established high school. As an extension of the Pasadena Waldorf School's K-8 program begun in 1979, the Pasadena Waldorf High School opened its campus for classes in August 2012, with an inaugural class of 17 students.
Pasadena Waldorf School, founded in 1979, is one of over 1,000 Waldorf schools worldwide with over 90 years of experience offering inspired education. Pasadena Waldorf High School, which opened this year, joins 40 other Waldorf high schools now operating in North America. Waldorf education is the fastest growing independent school movement in the world.