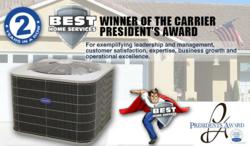 Our team relentlessly strives at getting better so our customers get the best. After all isnt that what they deserve? -Keegan Hodges
Naples, Florida (PRWEB) June 28, 2013
Southwest Florida air conditioning and electric company Best Home Services was awarded the 2013 Presidential award for the second year in a row. Best Home Services (http://www.getbest.com) is a local, family-owned and operated ac company that provides air conditioning, heating, plumbing and electrical services to Naples, Marco Island, Cape Coral, Fort Myers and Bonita Springs.
The President's Award, which first started in 2007, is Carrier's highest honor for its dealers. It recognizes Carrier dealers who exemplify leadership and management, customer satisfaction, expertise, business growth and operational excellence. This annual award is designed to encourage self-analysis and reward individuals who have excelled in customer relations. Its goal is to support business improvements and show gratitude for their customer loyalty. This award presents the opportunity for recipients to serve as role models, share "best practices" and otherwise offer peer mentoring to help cultivate excellence across the dealer group.
Co-owner of Best Home Services air conditioning company, Keegan Hodges was elated to receive the award. "We are very honored to receive the Carrier Presidential award two years in a row," said Hodges. "Our team relentlessly strives at getting better so our customers get the best. After all isnt that what they deserve?"
To learn more about Best Home Services, or to schedule service today, visit http://www.getbest.com/ or call 239-284-1472 or 941-404-3219.
About Best Home Services Air Conditioning Company:
Best Home Services provides air conditioning, ac repair, electrical, heating, and plumbing services and more to customers in Naples, Fort Myers, Cape Coral, and Bonita Springs. Locally family-owned and operated, Best Home Services has been one of the most trusted names in Fort Myers Air Conditioning and was voted by Ft. Myers News-Press as the best air conditioning and electrical business in all of SW Florida for 3 consecutive years. For more information or to schedule your AC service with Best Home Services, visit http://www.getbest.com.