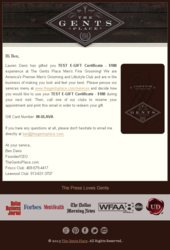 "E-gifts were the most popular online item for Father's Day this year, and we expect the same trend to continue into Christmas for men's gifts," says Ben Davis, owner & CEO of The Gents Place.
(PRWEB) June 27, 2013
The Gents Place recognizes the growing trend in gift card sales to provide immediate access for recipients to redeem their gifts. According to the National Retail Federation, gift cards have ranked as the No. 1 requested gift for four years in a row. E-gift card options allow a person to send a gift card via email, to the lucky recipient instantaneously. Busy businessmen, couch potatoes, and last-minute shoppers alike all rejoice with this state of the art way of gifting. No longer will the recipient have to wait around at the mailbox to receive a plastic shopping card because, everything can be done virtually. Sending and receiving gifts for men just got a whole lot easier, as The Gents Place, America's Premier Men's Grooming Club, continues to blaze the trail of innovation in the men's grooming niche.
About The Gents Place:
Founded in 2008 by Ben Davis, a frustrated guy who hated getting his haircut, The Gents Place offers men's grooming and lifestyle products and services in a masculine, yet relaxed country club type environment. They offer men's hair services, hand and foot repairs, straight razor shaves, massages, shoe shines and more. Frequently referred to as America's Premier Men's Grooming and Lifestyle Club with locations in Texas (Dallas, Frisco) and Kansas (Leawood), The Gents Place is known for its commitment to client service and top shelf amenities.