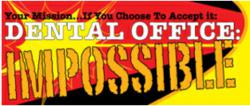 An incredible opportunity to learn more about business and how it integrates with the modern practice of dentistry
Salem, Oregon (PRWEB) June 29, 2013
Dental students entering their 4th year of dental school are eligible to receive one of three scholarships valued at $3000 each, offered by event creator, Jerry Jones Direct, to attend their 3-day event, which many have called the ultimate "fusion of business and dentistry," Dental Office: IMPOSSIBLE.
The dental business education event features a total of 16 faculty members in addition to the star of Food Network TV's Restaurant: IMPOSSIBLE, Chef Robert Irvine and NBC's Last Comic Standing, Josh Blue.
Standout Faculty Members include Dr. Sean Tarpenning (he does $69,000/week in Invisalign and other ortho as a GP), Dr. Darold Opp (as a solo doc, Darold and his team of hygienists crank out $3.4MM annually), Dr. Howard Farran (founder of DentalTown.com), Dr. Chris Griffin (the 3-day, $27,000 per week Dentist), the man behind the meteoric rise of Priceline.com & FreeCreditReport.com, Fred Catona (Fred regularly "mints" millionaires using his savvy direct response radio techniques), Dr. John Busby (a master practice builder), Dr. Tom Orent (the "Gems Guy" – no one has more rapid-fire tips, tricks and strategies in 90 minutes to build a bullet-proof practice than Tom), Dr. Scott Westermeier (he went from $0 in implants to millions and he swears he owes it all to "this" technique he will share), and many others.
The event is scheduled for October 10-12 in Scottsdale, Arizona. Attendance is limited to 150 doctors and their staff.
Team Members are encouraged to attend. They will experience training and be provided resources from one of Dentistry's top dental teams, Hebert Dental of Eau Claire, WI. This group of ultra-savvy, highly-trained and experienced staff (they run a $600k/month 3-doctor practice) will hold nothing back. These closed-door sessions will be highly beneficial for office managers, hygienists, DAs, front office and financial coordinators.
4th year students interested in learning more about the scholarship opportunity are encouraged to go online to learn more and apply: http://www.JerryJonesDirect.com/scholarship
There is no fee to apply. One scholarship will be awarded in July, August and September to a 4th year student demonstrating a desire to learn more about the business of dentistry and how they can better equip themselves for success upon graduation.
ABOUT JERRY JONES DIRECT – Jerry Jones Direct is the #1 internationally recognized Membership-based boutique dental marketing and advertising firm focused on both patient retention & turn-key new patient solutions, with clients in the US, England, Australia and Canada. Unique to Dentistry, its founder Jerry Jones, though not a dentist, also maintains a 9-year old "from-scratch" 4-doctor dental office in Salem, Oregon, SofTouch Dental. Through SofTouch, Jerry and his team conduct research and experiment with a variety of cutting-edge marketing and management techniques shared exclusively with Members of his ClearPath Society.