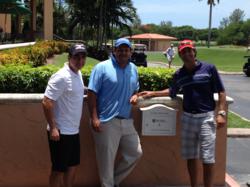 Back to the old school Scorecard Boxes to get your Golf Handicap
Miami, FL (PRWEB) June 28, 2013
In looking to make it even easier for the golfer to track their golf handicap, TheGrint Golf Handicap Tracker has begun installing Scorecard Mailboxes on Golf courses. With this initiative, tracking a score is now easier than ever. Simply introduce the scorecard in the mailbox (instead of the trash) and the hole by hole scores will be uploaded. This information will be used to provide an Official USGA Handicap to club members.
The Biltmore Hotel Golf Course is the first one offering this premium service to its golfers, member and not members. The Scorecard box will be installed first in different clubs in the South Florida area. And memberships for this service will be sold at a price ranging from $39.99 to $69.99. Golfers will be able to upload their scorecards themselves through the apps or simply use the network of mailboxes to send them.
Scorecard boxes will be conveniently located in the cart-return area, right after golfers finish their rounds to make it even easier for golfers to not miss it. Club employees will collect and send (through the provided scanner) the scorecards to TheGrint headquarters 2-3 times per week.
Because scores will be uploaded including the hole by hole information, TheGrint's website and app will be able to provide the golfers with performance stats and insightful information to identify weaknesses and strengths. On top of that, TheGrint tools foster connectivity with club members and even golfers outside the golf club.
Write to info(at)thegrint(dot)com to learn more.