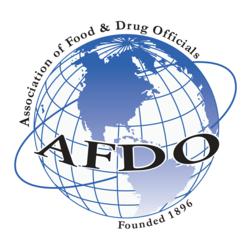 Louisville, Ky. (PRWEB) June 30, 2013
Valerie Gamble, an agricultural advisor for the Minnesota Department of Agriculture, in St. Paul, Minn., was given the AFDO Achievement Award at the 117th AFDO Annual Educational Conference.
The award is given for one or more specific achievements or for a sustained high level of performance. To be eligible for the award, one must be in his or her first five years of service as a sanitarian, inspector, investigator, milk specialist, food specialist, radiological health inspector, consumer product safety inspector or laboratory analyst or in a similar regulatory position. He or she must be a field-level employee, that is, one who goes out of the office to make inspections a significant portion of his or her working time. The recipient may not be a supervisor unless the work for which he or she were nominated was done as a field person and it played a role in the promotion to supervisor. The recipient must be employed by a federal, state, county, or municipal regulatory agency that has at least one employee as a member of AFDO.
Gamble, a field agricultural advisor since 2009, has achieved an exceptional level of performance in conducting regulatory inspections. In her short tenure with the Minnesota Department of Agriculture she has become one of the most knowledgeable inspectors in the division on manufacturing inspections. Gamble is committed to working with and educating the food industry that she regulates.
"This is a very special award," says AFDO Executive Director Joseph Corby, "as it honors a young field-level official who we believe will become a future food safety leader who can carry on the consumer protection traditions that AFDO represents."
About AFDO
The Association of Food and Drug Officials (AFDO), established in 1896, successfully fosters uniformity in the adoption and enforcement of science-based laws, rules and regulations regarding food, drugs, medical devices, cosmetics and product safety by either drafting regulatory rules or commenting on government proposals. By developing a broad base of support for new approaches, AFDO has become a recognized voice in determining the rules and shape of the regulatory playing field of the future. The consensus that AFDO develops is key to advancing uniform laws, regulations, and guidelines that result in more efficient regulation and less confusion among industry in the marketplace. AFDO develops support for its positions by interfacing with high-level regulatory officials, industry representatives, trade associations, and consumer organizations. This effort continues to have a significant impact on regulations at the federal, state and local level. For more information, visit http://www.afdo.org. Inquiries about AFDO can be directed to AFDO Executive Director Joseph Corby.