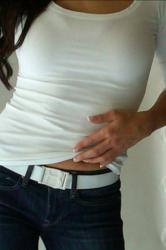 To assure that no matter what stylish outfit you choose to wear will fit you properly, we designed Beltaway.
New York, NY (PRWEB) June 28, 2013
While summer fashion usually yields tank tops and shorts, it can be especially difficult for those who want to hide unwanted tummy bulge. Experts at Beltaway Belt, a leading creator of men and women's adjustable flat belts, offers summer fashion tips on how to get rid of bulge so style savvy individuals can look and feel fabulous.
"It's not always easy to maintain that sleek silhouette and casual, airy look of summer," says President Jaclyn Kaufer. "To assure that no matter what stylish outfit you choose to wear will fit you properly, we designed Beltaway. It was specifically designed to make certain that whatever outfit you choose to wear, stays where you want it. It's critical, especially in the summer months when the body has a tendency to swell, that you have a belt that easily adjusts while you wear it, which is exactly what Beltaway does."
As temperatures rise, here are three tips to dressing on trend without revealing unwanted insecurities.
1. Avoid tight skinny jeans. Stick to more loose fitting bottoms like harem pants, cargo pants or even boyfriend jeans.
2. Invest in the high-low shirt. For a modest look, this cut offers a high-front and low-back top that's flattering on all shapes.
3. Avoid bulky belts. Beltaway Belts offers an adjustable flat belt that comfortably contours to the body and helps get rid of belt buckle bulge.
Stylish individuals will have an easier time wearing outfits that not only look chic but will work for their figure, by following these simple guidelines.
"Sometimes, the best fashion accessory is the one you don't actually see," says Kaufer.
About the company:
Beltaway Belt is a leading fashion necessity for men and women. Created by fashion veteran and entrepreneur Jaclyn Kaufer, Beltaway is a flexible, comfortable, adjustable, flat elastic belt that moves with the individual and gives them the security of keeping everything in place, all while eliminating any bulky belt buckles. Beltaway is available in a range of neutral colors and is easy to pack and travel with and ships worldwide. To see what Beltaway Belt can do for you, visit http://www.beltaway.com.