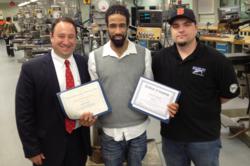 Believe in yourself. You have just come through a training school run by an auto-related company, so it's fitting that it was Henry Ford who said, 'Whether you think you can, or you think you can't, you'll probably be right either way.'
Baltimore, Maryland (PRWEB) June 28, 2013
Drew Greenblatt, president of Marlin Steel Wire Products in Baltimore, delivered the keynote address for graduates of the Magna Baltimore Technical Training Center on June 12, 2013.
The training facility was established in Baltimore in 2005 as a partnership of Magna International Inc., a global automotive parts supplier based in Ontario, Canada, and the Community College of Baltimore County to provide hands-on training in metalworking. Edrick Smith, a Marlin Steel machinist for the past year, was one of the 32 graduates honored this year.
Greenblatt spoke about how his company had to endure its own transition from making commodity bagel baskets into one that builds custom material handling containers for the automotive industry and many others. It has since become one of the fastest-growing private manufacturing companies in the country. BorgWarner, Honda, General Motors, Mazda and Toyota are among the auto-related manufacturers served by Marlin.
"Believe in yourself," he told the graduates. "You have just come through a training school run by an auto-related company, so it's fitting that it was Henry Ford who said, 'Whether you think you can, or you think you can't, you'll probably be right either way.'"
Marlin Steel ranked as the 162nd fastest growing private manufacturer in America according to Inc. magazine on its "5000" list last year. Marlin was also one of three U.S. companies chosen for the Metalforming Pioneer Award by the Precision Metalforming Association and The Hitachi Foundation this year. It also ranked as one of the 100 fastest-growing companies based in a U.S. city by the Initiative for a Competitive Inner City for the past two years.