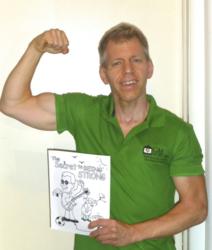 I knew our existing health education programs would be much more effective with such a tool.
Baltimore (PRWEB) June 28, 2013
In addition to the good hygiene practices of drinking safe water, hand washing, tooth brushing, keeping animals outside of living spaces, bathing, and washing clothes, this classroom training, song and coloring book program focuses on reducing and eliminating exposure to parasites such as intestinal worms by wearing shoes all the time. The current common practice for rural children who own shoes is to carry them to school and then put them on after they arrive in order to "save" the shoes. Since nematodes and helminths enter the body through the soles of bare feet, this habit exposes children to repeated infections. Children are known to have worm infestations as many as three times per year. Each infection robs the children of valuable nutrients leading to malnutrition, loss of time in the classroom, and retardation with life long consequences.
"When I learned of the coloring book project developed by physicians returning from missions to Haiti I was delighted! Children LOVE coloring books!" said, Deborah Frock, founder of Ghanaian Mothers' Hope. "I knew our existing health education programs would be much more effective with such a tool." Ms Frock then invited children's author, Jean McKay-Vinson, of JAM's Books, Inc. author of the educational coloring book, to collaborate to retool the coloring book to be culturally resonant for African children using funding from a Child Health Foundation Grant.
Knowing that children quickly grasp ideas and concepts from a song, Drew Davidsen dove in to double the fun by writing a song to help deliver the life saving hygiene messages contained in the coloring book. The partnership of Drew Davidsen and Ghanaian Mothers' Hope will deliver this training combination of teaching, song and educational coloring book to 1000 children in rural villages in Ghana, West Africa this summer from July 15-30, 2013.
Drew Davidsen's Blog: http://www.drewdavidsen.com/news/blog