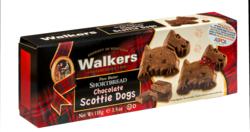 Happauge, NY (PRWEB) June 28, 2013
On the heels of the success of their adorable Scottie Dog shaped shortbread cookies, which in a little over a year have become Walkers Shortbread's most successful new product in a decade, the 115-year-old, family owned Scottish bakery will unveil a chocolate version of Scottie Dog Shortbread. Top quality Belgian chocolate and fresh creamery butter means that this is one cookie destined to be the best friend of any chocolate lover. And while these whimsical shapes, full of Walkers' famous goodness, may not play fetch, they'll be a huge hit at booth number 2736, where Walkers will be trotting out this new addition to the family during the Specialty Food Association's 2013 Summer Fancy Food Show.
"We introduced the Scottie Dog shape in 2012, thinking that some of our customers would get a tickle out of the little dog that is an icon of the Scottish highlands. The shape turned out to be a perfect complement to our traditional, wholesome shortbread recipe, and quickly became our best selling item," says brand manager of Walkers Shortbread, Inc., Lisa Sherman. "By blending pure, rich Belgian chocolate into the Scottie Dog cookies, we're hoping to offer the perfect companion for all the chocoholics out there."
Chocolate Scottie Dog Shortbread is made with only five of the highest quality ingredients Walkers can source: genuine Belgian chocolate, fresh creamery butter, flour, sugar and a pinch of salt, and will be available in a 3.9 oz. carton. The Scottie dog products can be purchased from Walkers US online at http://www.walkersus.com, and are available at fine food retailers nationwide.
Walkers will continue its support of the ASPCA® (The American Society for the Prevention of Cruelty to Animals®), with at least 10 cents from each purchase of the Chocolate Scottie Dogs going to support efforts to end animal cruelty and homelessness. Walkers will make a guaranteed minimum donation of $50,000 to the ASPCA by year's end.
To try Walkers Shortbread's new Chocolate Scottie Dog Shortbread and learn more about their support of the ASPCA, please visit booth 2736 at the 2013 Summer Fancy Food Show located in the Javits Center in New York City from June 30 - July 2. For additional information, please visit http://www.walkersus.com. All Walkers Shortbread's cookies and biscuits are baked using only the finest ingredients with no genetically modified ingredients (GMOs), and no artificial flavorings, colorings or additives of any kind.
###
About Walkers Shortbread
Walkers was founded in 1898 and is the leading brand of food exported from Scotland. The family-owned company offers the widest range of shortbread, traditional cookies, cakes, oatcakes and puddings to over 80 countries, and continues to operate its original retail shop in the Scottish Highlands village of Aberlour. The company's products contain no artificial flavorings, colorings or additives and are certified kosher OUD. For more information, please visit http://www.walkersus.com.
About the ASPCA®
Founded in 1866, the ASPCA® (The American Society for the Prevention of Cruelty to Animals®) is the first animal welfare organization in North America and serves as the nation's leading voice for animals. More than two million supporters strong, the ASPCA's mission is to provide effective means for the prevention of cruelty to animals throughout the United States. As a 501(c)(3) not-for-profit corporation, the ASPCA is a national leader in the areas of anti-cruelty, community outreach and animal health services. For more information, please visit http://www.ASPCA.org, and be sure to follow the ASPCA on Facebook, Twitter, and Pinterest.