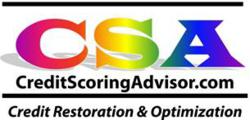 Melville, NY (PRWEB) June 30, 2013
The best credit repair service in New York, Credit Scoring Advisor has been in the credit repair arena for a long time now, accumulating invaluable experience and enhancing people's lives. In times where every other person in the nation faces issues with their credit score, clouds of trouble loom when such people wish to qualify for mortgages. Even though people with somewhat bad credit scores still get them, they are usually crushed under the burden of high interest rates, paying more each month or qualifying for a lower mortgage amount. Helping people qualify for mortgages and at the best interest rates, Credit Scoring Advisor continues to prove its caliber.
Run by the renowned Daniel Sater, (CCE, CFP), Credit Scoring Advisor feels immense pride in having established itself as the best Credit Repair Service in New York. With innovative strategies and methodologies, the company tackles each of its clients' cases separately, employing different skills at every stage. Tackling every questionable entry in the credit history, challenging it with full might, CSA helps eliminate issues completely, enhancing the credit profile and resulting scores. With CSA fixing the scores swiftly, the company also helps its clients achieve mortgages on better terms. With a much better score, the company's clients can get more house for their money and low interest rates on their mortgage offers, giving them the liberty to choose what they deem best for their future, saving them thousands of dollars on their home payments. Prospective home buyers can rest easy knowing that they have someone on their side working tirelessly to improve their credit before applying for a mortgage. This is exactly the reason why CSA works with mortgage companies directly, so that its clients can get the peace of mind that they deserve.
To know more about CSA, visit: http://www.creditscoringadvisor.com/.
Visit our YouTube channel by clicking http://youtu.be/51hjev8TES0.
About CSA:
Credit Scoring Advisor is a CreditCRM Certified National Credit Restoration company. With an immense amount of accumulated experience in the industry, the company has helped thousands of people from all over the country improve their credit scores greatly. Going about a simple yet effective approach, the company specifically targets outdated, questionable and inaccurate entries in a report, ensuring that the final credit score is much higher than ever before. The repair is carried out with CSA's collaboration with the client, major Credit Bureaus and the creditors involved.
Contact:
Mr. Daniel Sater
Credit Scoring Advisor
631-392-8685
555 Broadhollow Road, Suite 329 Melville, NY 11747
Marketing(at)CreditScoringAdvisor(dot)com
http://www.CreditScoringAdvisor.com