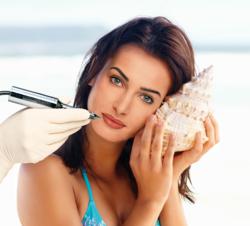 Swim-Proof, Sweat-Proof, Sun-Proof Conture® Make-up...
Beverly Hills CA (PRWEB) June 28, 2013
The best option for summer beauty is the swim proof, sweat-proof, sun-proof Conture® Make-up by Long-Time-Liner USA Inc.
Summer months come with outdoor activities, biking, hiking, swimming and sports. Conture® Make-up is applied by highly skilled technicians, into the epidermis of the skin. It does not smudge, streak, bleed, melt, or wash away.
Conture® Make-up is designed to accent and emphasize it's wearers natural beauty. Conture® Make-up simply balances uneven shapes of Lip, Eyes, and Brows. It also fills in sparse brows, opens and defines the eye shape, and creates a full, bright and symmetrical smile.
Skilled technicians study each individual face to offer the best look to harmonize features. Conture® Make-up is then applied into the skin with a gentle and precise pigmentation machine which is of highest quality, state-of-the-art technology. Pigments are bright, rich and beautifully natural looking colors customized to individual style and taste.
Sun and sand can be fully enjoyed while looking ones best! Pool parties, music festivals, and camping are all times to shine in Conture® Make-up by Long-Time-Liner® USA Inc.
Long-Time-Liner® is located in Beverly Hills California, at the heart of the beauty and luxury product center. There have been many beautiful and satisfied customers from all age groups, nationalities and personal style. Semi-Permanent Conture® Make-up can make a significant improvement to anyone's beauty. Contact the salon for more information and to book a consultation!