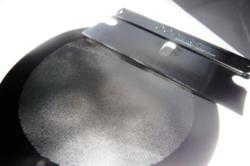 The new Potomac capability demonstrates a leap in speed for processing metals resulting in rapid turnaround of parts.
Lanham, MD (PRWEB) June 28, 2013
Building upon 30 years of innovation in manufacturing, precision micromachining firm Potomac Photonics, Inc. has developed a new high-speed micro hole drilling process that is especially useful for work in metals. Once the new technique is optimized for the specific part and application, Potomac can drill hundreds of micro holes per minute.
Holes as small as 5 microns can be drilled with extremely tight tolerances, both for hole diameter and positioning. Of particular interest is the high aspect ratio that can be achieved in materials such as stainless steel, copper, titanium, aluminum and other metals. Potomac Photonics' Vice President of Operations, Mike Davis notes, "With our new process, we've been able to produce 10 micron holes or smaller in 300 micron thick stainless steel [see photo] and can duplicate this high aspect ratio in other metals as well. This opens up micro hole drilling to myriad new projects."
Throughput, the speed in production, is a key parameter when choosing a fabrication process for micro hole drilling, as speed drives cost. The new Potomac capability demonstrates a leap in speed for processing metals resulting in rapid turnaround of parts. Applications, from making filters, masks and electronic devices to drug delivery, leak testing and medical device component manufacturing, need large numbers of micro holes will benefit greatly from this faster, lower cost process.
The medical device industry offers a number of applications for which micro-hole drilling is key. Drug delivery is a medical device application that that has recently begun to use micro-holes to pinpoint the delivery of a drug to a specific location in the body. Frequently, they are delivering highly toxic or potent drugs like those used in Chemotherapy. A drug delivery component's success is dependent upon the number and consistency of its holes. When used to deliver an aerosol spray, small hole size is important for the atomization process.
Filters and Shadow Masks are also an excellent example of applications that need high speed micro hole drilling. These parts need to have hundreds or thousands of precise micro holes fabricated in metal, glass or other materials with high precision. The high aspect ratio achievable with the new process creates new possibilities for fabricating thicker components. Leak test holes which require extremely small holes and tight tolerances will benefit from Potomac's new developments.
The new Potomac Photonics process is suitable for low and high volume applications. Whether for a new medical device or any other type of product, any industry needing micro hole drilling can now find speed, accuracy and high aspect ratios in one contract service company.
About Potomac Photonics
For over 30 years, Potomac Photonics has been a leader in microfabrication and small hole drilling. Potomac's contract services span prototyping to production, helping clients develop miniature products and bring them to market. Using cutting-edge manufacturing technology, Potomac has been recognized by both commercial and government agencies for innovation in areas such as medical device, electronics, aerospace, and automotive manufacturing. Potomac's high-tech facility, located in Lanham, MD, is ISO 9001:2008 and ISO 13485:2003 certified. Visit the website at http://www.potomac-laser.com.