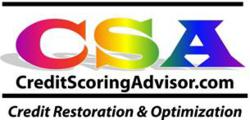 Melville, NY (PRWEB) June 30, 2013
Best Credit Repair Service? Too good to be true? A person wishing to get his credit score repaired faces similar slogans online, every day. From companies that can "fix" credit score in a day to companies that can provide new (illegal) identities or "piggybacking" on strangers credit; all questionable practices that can get you into trouble. The internet is filled with amateur companies that do this part time or don't understand how the FICO scoring model works or the best credit repair tactics. In such a way, thousands of people are scammed every day. How exactly do they trick people and why is Credit Scoring Advisor different? Read on.
Firstly, there is an orthodox rule of credit repair: it takes time. Yes, even for a gradual increase in the score, working out to correct faulty entries on the credit reports, targeting them precisely and then eliminating them completely, certainly takes a decent amount of time. Scam companies on the internet tend to offer fix-score-quick schemes to trap people into opting for them. If a package seems too good to be true, it probably is.
Secondly, these companies don't know what they're doing, period. Taking their information and training from the internet and run by make-shift accountants and "experts", not only do they possess insufficient knowledge, but some that can prove to be lethal for a credit score.
So, why CSA? Well, Credit Scoring Advisor, run by the renowned Daniel Sater (CCE, CFP), and having the experience of coaching credit repair companies, a professional speaker on the topic and developing certification exams for the industry, definitely know the tricks of the trade. With years of accumulated experience and an ever growing clientele, he know exactly how it's done! He ever handles your account personally. Daniel has a reputation of fighting for his client and his aggressive and knowledgeable approach aids in removing the most tradelines in the fastest amount of time.
To read the article on the blog, visit: http://creditscoringadvisor.blogspot.com/
To know more about CSA, the best credit repair service, visit: http://www.creditscoringadvisor.com/
Visit our YouTube channel by clicking: http://youtu.be/51hjev8TES0
About CSA:
Credit Scoring Advisor is a CreditCRM Certified National Credit Restoration company. With an immense amount of accumulated experience in the field, the company has helped thousands of people from all over the country improve their credit scores greatly. Going about a simple yet effective approach, the company specifically targets outdated, questionable and inaccurate entries in a report, ensuring that the final credit score is much higher than ever before. The repair is carried out with CSA's collaboration with the client, major Credit Bureaus and the creditors involved.
Contact:
Mr. Daniel Sater
Credit Scoring Advisor
631-392-8685
555 Broadhollow Rd Suite 329 Melville, NY 11747
Marketing(at)CreditScoringAdvisor(dot)com
http://www.CreditScoringAdvisor.com