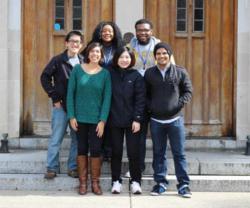 Nashville, TN (PRWEB) June 28, 2013
The program, sponsored by the United Methodist Board of Higher Education and Ministry, combines much-needed scholarship support – $5,000 a year – with ongoing mentoring by committed UM clergy.
Analisa Barrington of Perkins School of Theology credited the program with enabling her to interact with people from many different ethnic and economic backgrounds.
"One of the greatest things I learned is that no matter what your background, when your identity is [centered] in Christ, you have so much more in common that you ever realized." Barrington graduated this year from Perkins in Dallas, where she also serves as youth pastor at Highland Park United Methodist.
The United Methodist Church, in great need of racial-ethnic clergy, benefits from the program, too. According to 2011 statistics from GCFA, 11.4 percent of UM clergy are racial ethnic.
"Diversity is and has always been an important value of The United Methodist Church, and diversity in the pulpit is an extremely important piece of living out that value," said the Rev. Trip Lowery, Director of Young Adult Ministry Discernment and Enlistment, adding that the program is "pivotal for the church."
"To meet the leadership needs of the church in the coming years, we have to be intentional and committed to these seminarians and their training. Assigning mentors, bringing students and mentors together, giving students the best support we can—this is critical, imperative and key to our future," says Lowery.
John Wang, a graduate of the Divinity School, Duke University, begins serving this summer as a licensed local pastor at Highland Park United Methodist Church in Spokane, Wash. He said his mentor stressed the need for a disciplined and healthy prayer life through prayer and Scripture and to avoid physical and mental burnout.
"She also advised me to develop a support network of close relationships with local pastors in my area," Wang said.
Other graduates this year are: Tariq Cummings and Tabitha Mock-Scott, graduates of Gammon Theological Seminary in Atlanta; Perkins School of Theology graduate Paul Trejo; and Boston University School of Theology graduate Ji Hun Yoo.
Funding for this program comes from local church offerings on Word Communion Sunday, held the first Sunday in October.
Learn More
To learn more about supporting racial-ethnic students, visit http://www.umcgiving.org/wcs. You can donate online, order resources to observe World Communion Sunday, or read inspiring stories of students who benefited.