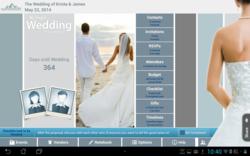 Omaha, NE (PRWEB) June 28, 2013
Summitsoft Corporation, a leading developer and publisher of Windows software, announced today it has expanded the release of My Perfect Wedding Planner app for Kindle Fire users. Summitsoft has been in cooperation with Marriott International for the last 7 years providing wedding planning software to their event managers. "We have had a great deal of success with our desktop version of My Perfect Wedding Planner as well as the app version for Android tablet devices, and we wanted to continue to expand the platforms that our product is available on," said Bruce Lowry, President and CEO of Summitsoft.
The new My Perfect Wedding Planner app offers the best and easiest way to help plan the big day and is designed to help save time and energy while planning. From compiling the guest list to mailing the last thank you note, every wedding will be a success. Some of the great features include:
Invitations: Create & track sent invitations. Create invitations by dragging and dropping guest names into each invitation.
RSVPs: Keep track of RSVPs. Easily record all acceptances and regrets. Assign meal selections and pull ongoing statistics of RSVP's.
Attendees: Manage details of guests attending. Review headcount and meal selections, assign attendees to flights and hotels, & design a seating chart.
Budget: Organize and track expenses. Stay on top of the budget and know exactly how much has been spent and how much is remaining.
Checklist: Stay on top of to-do lists. Includes over 100 wedding planning tasks that every bride and groom will need to address.
Gifts: Keep track of who gave what. Make gift tracking a snap - track gifts from the engagement, shower, or wedding, who gave them, and if a thank you note was sent.
Timelines: The big day's to-do list. Choose from General, Christian, Catholic or Jewish timelines to walk through the details of the special day. Everything is completely customizable.
Vendors: From bakers to venues. Keep vendor information organized so the day goes smoothly.
Notebook: A great place to keep track of notes and images while planning.
My Perfect Wedding Planner™ is now available for Kindle Fire devices through the Amazon Appstore as well as Android tablets through the Google Play store as a free trial version and a full version for a 50% off introductory price of only $4.99. The iPad version will be releasing this fall. Please visit http://www.myperfectweddingplanner.com for more information.